1961 : Mi-10 Harke
A crane, derivative from the Mi-6, the Mi-10 can carry loads up to 15000 Kg.
Picture from Roy's Russian Resource: http://www.clark.net/pub/royfc/roy1page.html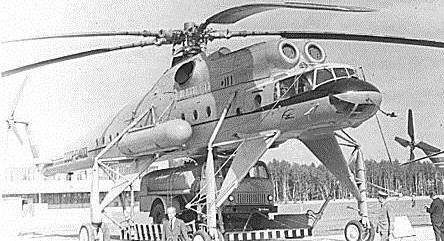 1964 : Mi-10k Harke
A new version of the Mi-10 which has a shortest length and shallow fuselage

1965 :
Mi-2 Hoplite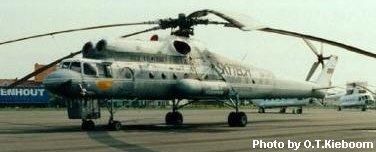 1967 : Mi-8 Hip E / Hip F
Attack versions of the Mi-8. With up to 6 rockets launchers, 4 AT-2 anti tank missiles and a machine gun, it was one of the best armed helicopters of its time.

July 10, 1968 :
Mi-12 Homer
Largest helicopter yet flown.
Only 3 were produced, it was a mix of two Mi-6 joined

August 6, 1969 :
A Mi-12 lift 40.204 Kg to 2.255 m
This big "helo" had a max capable weight of 105000 Kg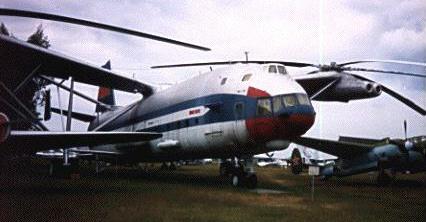 September, 1969 : Mi-14 Haze
The naval version of the Mi-8, the Haze is a coast-based ASW (Antisubmarine Warfare) helo.
Rotor diameter:
21.29 m
Length:
25.3 m
Height:
5.65 m
Weight:
8000 kg - Max: 12000
Engine:
2 Isotov TV3-117A of 2200 shp each
Speed:
240 km/h
Range:
500 km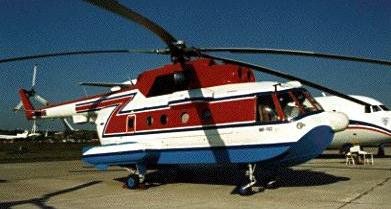 September 19, 1969 :
Mi-24 Hind

1972 : Mi-22 Hook C
A cargo helicopter, was a Mi-6 development.

December 14, 1977 :
Mi-26 Halo
Biggest operational Helicopter of the World

1981 : Mi-17 Hip H
A newest Mi-8, the Mi-17 has an improved structure and better electronic systems. Uses the Mi-14's Isotov TV3 engines

November 10, 1982 :
Mi-28 Havoc

Middle 1980s : Mi-30 / Mi-32
Tilt rotors projects, not built.

1986 : Mi-34 Hermit
A light helicopter, the Hermit is primary used in civilian missions.
Rotor diameter:
10 m
Length:
11.4 m
Height:
2.75 m
Weight:
1450 Kg
Engine:
1 piston engine M-14B26B of 350 hp
Speed:
225 km/h
Range:
360 km
Service Ceiling:
5000 m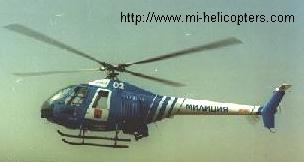 1999 :
Mi-38
The replacement of the Mi-8 / Mi-17 family

? : Mil Mi-44
Projected utility helicopter version of the Mi-34
Continue as Russian Helicopters

2019 : Mikhail Mil
Helicopter pioneer
110th Birthday