January 1991 : Model R44
New four-seat helicopter is exhibited for the first time; FAA certification is expected in 1992.

June 1991 :
R22 breaks its own speed records reaching a top speed of 143.61 mph; Robinson receives Igor I. Sikorsky Trophy recognizing world records.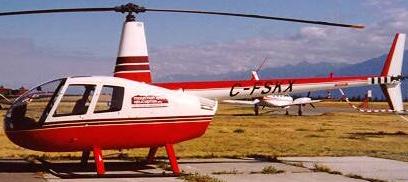 November 1991:
2000th R22 helicopter is delivered.

December 1991 :
Robinson production rate reaches all-time high with 402 R22s produced in 1991.

March 1992 :
R44 base price of $235,000 is announced; deposits and orders are accepted.

December 1992 :
FAA issues Type Certificate for
R44 Astro
; R22 is world's top-selling helicopter for the fifth consecutive year.

January 1993 :
In Argentina, Buenos Aires Police purchase forty R22 helicopters.

February 1993 :
First production R44 Astro helicopter is delivered.

July 1994 :
Robinson moves to new 260,000 square-foot manufacturing facility.

February 1996 : Model R22 Beta II
is introduced with O-360 engine, giving it improved hover performance, and a base price of $135,000.

June 1997 :
R44 Newscopter announced for high-quality live television broadcasting.

July 1997 :
R44 Police Helicopter receives FAA certification.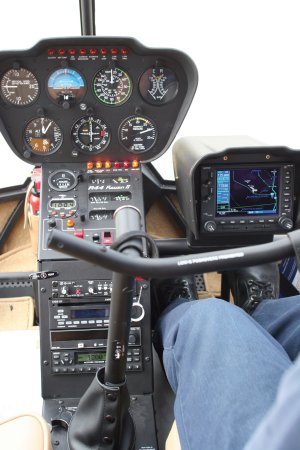 August 1997 :
R44 completes around-the-world flight with pilots Jennifer Murray and Quentin Smith.

November 1997 :
Robinson is awarded ISO 9001 certification for helicopter design, manufacture and service.

February 1998 :
First three
R44 Newscopters
are delivered.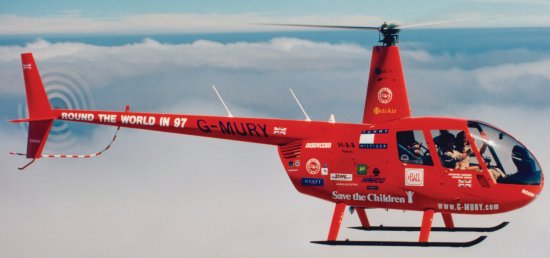 June 1999 :
FAA approves pop-out floats for R44 Clipper.

August 1999 :
Hydraulic power controls are introduced for the R44 helicopters.

October 1999:
3000th R22 helicopter is delivered.

January 2000: Model R44 Raven
is introduced with adjustable pedals and standard hydraulic controls; TBO for R22 and R44 is increased from 2000 to 2200 hours.

September 2000 :
4000th Robinson helicopter delivered - 3,132 R22s and 868 R44s; Jennifer Murray pilots her R44 helicopter, becoming the first woman to fly solo around the world.

February 2001 :
1000th R44 helicopter is delivered; Robinson launches new program fo lightweight roof-top helipads for business and industrial parks.

January 2002 :
R44 becomes the first US manufactured helicopter approved by Russia and other states of the Commonwealth of Independent States (CIS).

June 2002 :
Robinson delivers the first digital ENG Newscopter to Metro Networks; the first R44 Police Helicopter is delivered to China .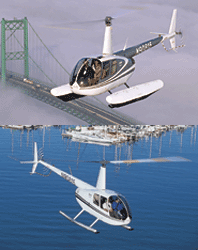 July 2002: R44 Raven II
The new helicopter has more power, a higher gross weight, and increased altitude performance.

October 2002:
R44 Raven II is the first piston helicopter to fly to the North Pole, piloted by Quentin Smith and Steve Brooks.

November 2002 :
Robinson is the first US helicopter manufacturer to receive Japanese type certification.

June 2003 :
First Robinson helipad opened at a private helistop at Honda of Santa Ana, CA.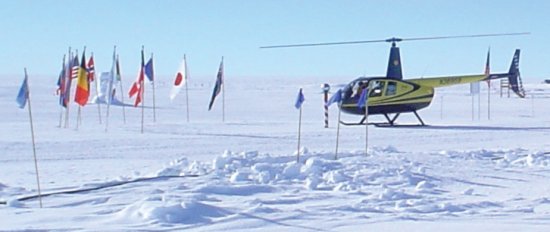 September 2003:
5,000th helicopter delivered.

January 2004:
Robinson announces company sales record with the production of 422 new helicopters in 2003.

January 2005:
Robinson surpasses previous sales with 690 new helicopters produced in 2004; R44 Raven II is the first piston helicopter to fly to the South Pole, piloted by Quentin Smith and Steve Brooks.

February 2005 :
New manufacturing facility opened which added 220,000 square feet to Robinson, totaling 480,000 square feet.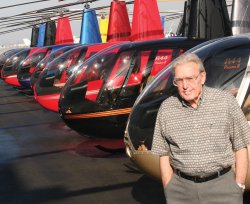 April 2005 :
6,000th helicopter delivered.

November 7, 2007 : Model R66
The new R66 is somewhere between the R-44 Raven 2 and a
Bell 206 JetRanger
in terms of performance. Robinson's new helicopter will be powered by a Rolls Royce RR300 turboshaft and is expected to reach the market sometime between 2011 and 2013

November 10, 2011 : 10,000th
A R44 (c/n 13217) is delivered, being the company's
10,000th
helicopter to come off its production line.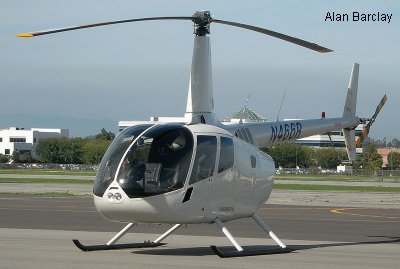 See Also:
Robinson Helicopter Database