Nov 29, 1945 :
A Sikorsky R-5 hovers over a grounded oil barge in Long Island Sound off Fairfield, CT, to perform the first helicopter hoist rescues in aviation history.
The rescue site was a short flight from the Sikorsky factory in Connecticut.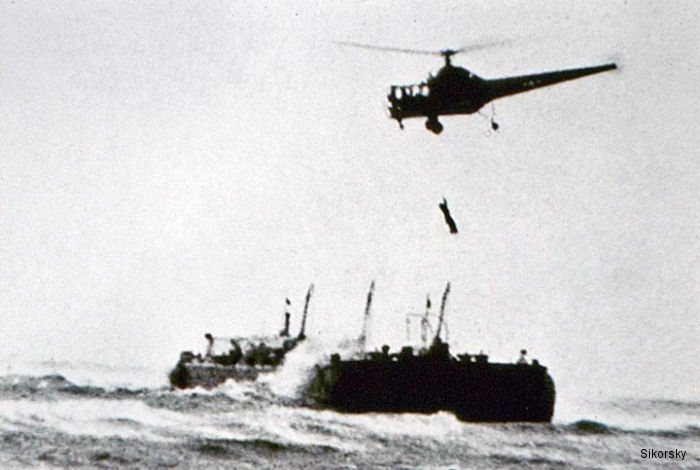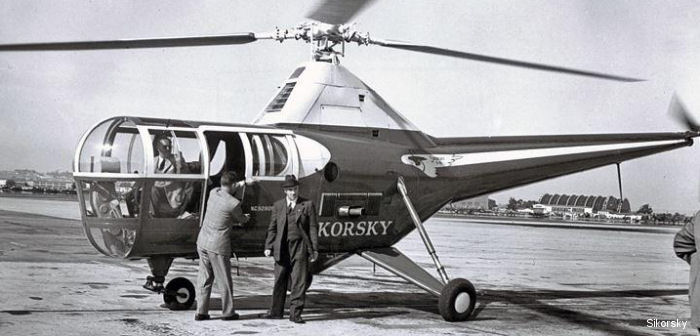 Feb 16, 1946 : S-51 DragonFly (H-5)
A four-seat helo, was designed as a commercial modification of the R-5. US Coast Guard designation was
HO3S-1G
Rotor diameter:
14.63 m
Length:
12.45 m
Height:
3.96 m
Weight:
Empty: 1715 kg Max: 2189
Engine:
One P&W R-985-AN-5 of 450 hp
Speed:
Max: 171 km/h
Range:
579 km
Service Ceiling:
4389 m

Feb 12, 1947 : S-52 (YH-18)
A two-seat helo, was featuring all-metal rotor blades. Serial number 49-2888

1947 : S-53
A development of the S-51 that not enter in production. Naval designation
HJS

Dec 20, 1948 : S-54
A development of the S-52, not built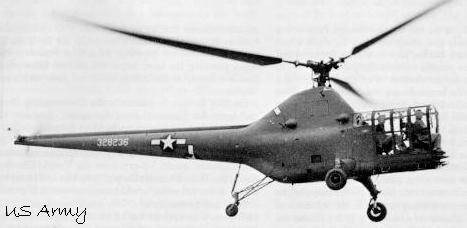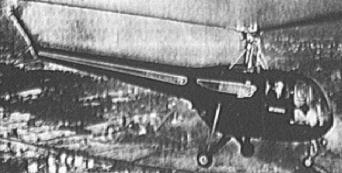 Nov 10, 1949 :
S-55 Chickasaw (H-19)

1952 :
World's first transatlantic helicopter crossing WITH STOPs. Two USAF H-19s (
Sikorsky S-55
) traveled from the USA to Wiesbaden (Germany) with stops in Labrador, Greenland, Iceland, Scotland, and the Netherlands on their way. Total flight time was about 52 hours, but because of stops the trip took 21 days.

Jul 24, 1953 : S-52T (YH-18B)
Turbine powered version of the S-52. It used a french Turbomeca Artouste I.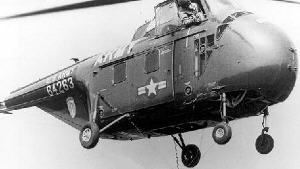 Dec 18, 1953 :
S-56 Mojave "Deuce" (H-37)

1954 : S-57 (XV-2)
Not a real helicopter as we know them today , was a proposed joint US Army/USAF development program for a radial engine powered convertiplane.
The system featured rotors that folded up for take-off and landing and folded away and stored in the fuselage for level flight.
The 54-4403 serial number was assigned to the prototype but was cancelled before it was built.
( Thanks Thomas Mueller )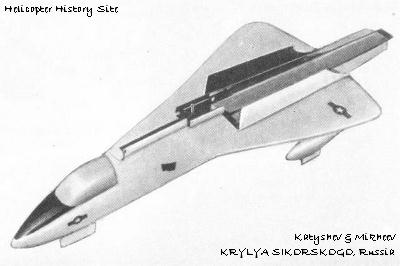 Mar 8, 1954 : S-58 H-34 Choctaw/Seahorse/Seabat
Pioneer of commercial airline helicopter operations, it had a single piston engine, four-bladed main rotor, a gross weight of 5900 kg and the ability to carry 12 passengers in airline-style seating or 18 troops. The radial engine was fitted in the nose as in the S-55, but the fuselage was more streamlined. The US Navy used the antisubmarine variant
HSS-1
Sea Bat and the Marines the utility
HUS-1
Sea Horse.
Read about S-58s in Vietnam in our
stories section
.

Jun 1, 1954 : S-59 (YH-39)
A development of the S-52T, powered with a Turbomeca Artouste II turboshaft engine and a retractable landing gear.
Only one built, serial number 49-2890.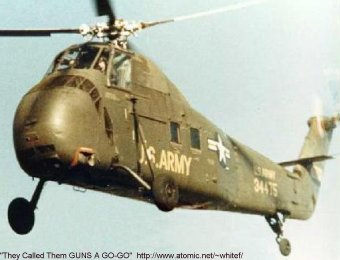 Jan 30, 1957 : S-58 Twin turbine
Navy 's HSS-1F

May 14, 1958 : S-62 HH-52A Seaguard
The forerunner of an entirely new generation of production models, the S-62 was the company 's first amphibious helicopter, with a boat hull and powered by a single General Electric T58 turbine was first flown with the three-blade main rotor of the S-55 but will then enter production with the four-blade main rotor of the S-58 as the S-62B.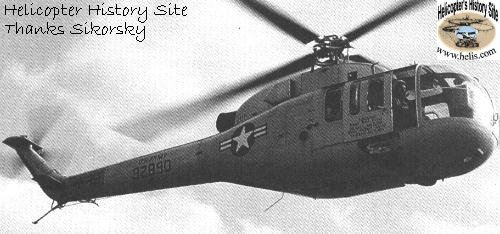 Sikorsky S-63 :
Four bladed, twin-engine S-62. Not built.

USCG HH-34F

Mar 11, 1959 :
S-61 (H-3 Sea King)