March 9, 1965: Sioux (AH Mk 1, HT Mk 2 )
A 3 seat general purpose helicopter and trainer, basically the Bell 47G-4 built under licence from
Agusta
( sub-licence of
Bell
)
Rotor diameter: 11.32 m
Length: 13.17 m
Weight: 806 kg - Max.1338
Speed : Max.169 Km/h
Power: 1 Avco Lycoming TVO-435-A1A turbo-charged piston engine (260 hp)
Range: 507 Km
Acommodation: Pilot plus 2
No.Built: 149


August, 1965: WS-58 Wessex. (HAS Mk3)
The Wessex Mk 3 represented a substantial rework of the basic aircraft. Although it utilised the basic airframe, the aircraft incorporated a sophisticated avionics system and Automatic Flight Control System for anti-submarine duties. Most aircraft were conversions from Mk1 standard.
Rotor diameter: 17.07 m
Length: 20.04 m
Weight: 4340 kg - Max.5715
Speed : Max.212 Km/h
Power: 1 Napier Gazelle 165 (1600 hp)
Range: 1038 Km
Acommodation: Pilot plus 3
No.Built: 3 plus 43 conversions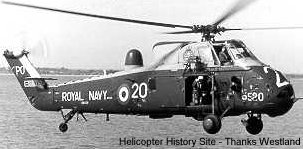 October 1st, 1966:
Company re-named
Westland Helicopters Limited

Sept. 8, 1966: Sea King. (HAS Mk 1, 2, 5 & 6. HAR Mk 3)
Westland undertook to build the Sikorsky SH-3D under licence as the Sea King. The Westland version included several modifications to improve its use in the ASW role, and was subsequently adapted for SAR, Commando and
AEW
roles
Rotor diameter: 18.9 m
Length: 22.15 m
Weight: 7019 kg - Max. 9707
Speed : Max.209 Km/h
Power: 2 Rolls-Royce Gnome 1400 turboshafts (1500 hp)
Range: 1112 Km
Acommodation: Pilot plus 3 (ASW) or 2 plus 28
No.Built: 330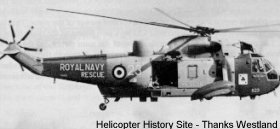 February 22, 1967:
Anglo French Helicopter Agreement to produce Gazelle, Lynx and Puma signed with
Aerospatiale
.

July 30, 1968:
Puma HC Mk 1
The First of the three designs which comprised the Package Deal, the Design Authority for the Puma medium transport helicopter remained with Aerospatiale, while Westland manufactured the aircraft for the UK.
Rotor diameter: 15 m
Length: 18.18 m
Weight: 3340 kg - Max. 6400
Speed : Max.280 Km/h
Power: 2 Turbomeca Turmo 3c turboshafts (1320 hp)
Range: 630 Km
Acommodation: 2 pilots plus 16
No.Built: 48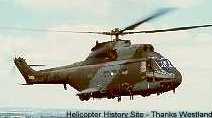 April 28, 1970: Gazelle ( AH Mk1, HT Mk2 & HT Mk3 )
The Aerospatiale Gazelle was included in the Package deal to provide a Unit Light Observation Helicopter for the British Army and a basic trainer for all services, all built by Westland. A small number of civil Gazelles were also built.
Rotor diameter: 10.5 m
Length: 11.97 m
Weight: 850 kg - Max.1800
Speed : Max.264 Km/h
Power: 1 Turbomeca Astazou 3A turboshaft (590 hp)
Range: 360 Km
Acommodation: 5
No.Built: 262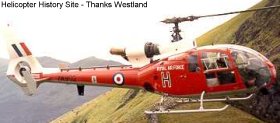 March 21, 1971: WG 13 Lynx ( Army versions )
The Lynx was the third of the trio of helicopters involved in the collaborative deal, Westland holding the design authority for the aircraft. The semi rigid rotor was an important feature, intended to offer high manoeuvrability and good handling for shipborne operations.
The Utility Lynx has remained inservice with the British Army, subject to several upgrades like the AH Mk7 and AH Mk9
Rotor diameter:
12.8 m
Length:
15.16 m
Weight:
2815 kg - Max.4536
Speed :
Max.259 Km/h
Power:
2 Rolls Royce Gem 2 turboshafts (900 hp)
Range:
630 Km
Acommodation:
2 pilots plus 10
No.Built:
149 (AH Army versions)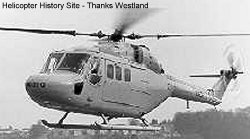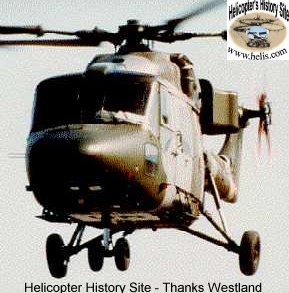 May 25, 1972: WG 13 Lynx ( Naval versions )
The naval Lynx was designed from the outset to operate from small ships, the excellent handling available through the semi rigid rotor and the Westland deck lock and high energy absorbing landing gear have all resulted in worldwide success. Several upgrades includes the HAS Mk3 HAS Mk8
Rotor diameter:
12.8 m
Length:
15.16 m
Weight:
2761 kg - Max.5126
Speed :
232 Km/h
Power:
2 Rolls Royce Gem 42-1 turboshafts (1120 hp)
Range:
630 Km
Acommodation:
2 (ASW)
No.Built:
>250 (HAS Navy versions)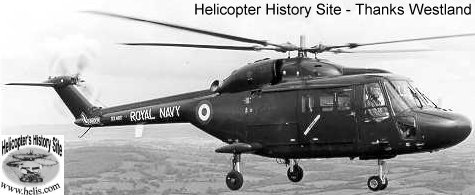 June 1975: Westland WG 25 Mote
A private venture project, was an experimental remotely piloted helicopter

December 1976: Westland Wisp
A larger version of the Mute for airborne surveillance.3 prototypes.

1977: Westland Wideeye
A larger and more sophisticated version of the Wisp

1977: Westland WG 33
Was intend to be a 2-seat light reconnaissance helicopter but due to a lack of interest or funding the project was abandoned. Only 1 mock-up built.