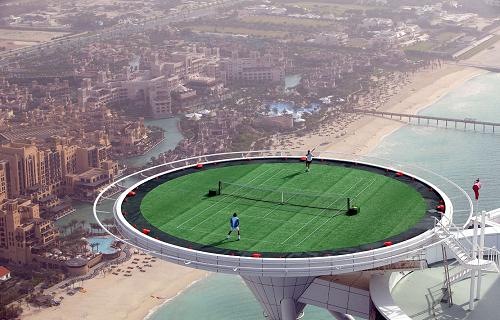 Your Own Land
If you own it, you do not need planning permission to fly your helicopter from it. This is providing that the machine is kept purely for your personal or business use, and you do not carry out any development in connection with its operation (like build a hangar for instance).
It would be very unwise, however, to start flying a helicopter from your back garden or company car-park without consulting your neighbours first. Recent experience has shown that those who neglect this public relations aspect invariably attract unwelcome publicity, which is in itself likely to make local councils take an interest.
Involve your neighbours; show them how responsible you will be, discuss alternative flight paths to avoid flying over their property, offer them an aerial photograph of their homes, promise not to take off at 6 o'clock on a Sunday morning, etc. etc. There is so much you can do to make your life easier, and to indirectly help the helicopter community as a whole. Remember that most people are fascinated by helicopters to start with: it is over-familiarity which breeds contempt.
Other Peoples' Land
Commonly called ad hoc sites; these can be used with the owner's permission as long as they are suitable. In this case the site is regarded as 'temporary', and under current legislation - provided it is not used for more than 28 days in a year - planning permission is not required.
Landing sites which are located in built up areas may in addition require special permission from the Civil Aviation Authority because of safety regulations. They may well be restricted to twin engined types for the same reason.
Build Your Own Helipad
You should take expert advice on the location and construction of a helipad, which should take into account items such as obstructions and the prevailing wind. In general terms however, you will need:-
A level piece of well drained ground, either good grass or solid surface, but not one which will create dust or gravel when dry. Loose material can be picked up by the down-wash from a helicopter's rotor, and cause damage to the helicopter or nearby buildings, cars or people. Even a solid surface such as concrete should be regularly swept or watered to keep the FOD (Foreign Object Damage) risk as small as possible.
Ideally the area should be about 35m in diameter, although 20m will be enough for most small, single-engined machines. As many approach paths as possible to the site need to be free of obstructions such as buildings, power lines or tall trees. Use an imaginary line taken from the centre of the landing area, inclined at 8 degrees from the ground out to a distance of at least 200m as a guide.
If there is an airfield close to your site, you should check with local air traffic control to see if there is likely to be any conflict.

Mark it out
- with a white 'H' painted in the middle. The legs should be 3m long and 40cm wide, and the crossbar 40cm wide as well. The crossbar should separate the legs so as to give an overall width of the 'H' of 1.8m. The whole should be surrounded by a yellow circle (line width 30cm) with a radius of at least half the overall length of the helicopter. A windsock on a 3m pole should be positioned adjacent to the landing area but clear of it.

Tell Neighbours About it
- and the police. The rules are that if the public has access the local police must be informed. They need not necessarily attend and are certainly not required to give permission for you to go ahead.

Night Flying
- If you are thinking about night operations (more PR required here) consider the appropriate lighting. There are several ways of lighting your pad, but it should ideally have point lighting set into the ground surrounding the pad, and floods to illuminate the immediate surroundings.

Permanent fire cover
- is not required at unlicensed helipads, but it is certainly sensible to provide some facilities. Foam or powder extinguishers should be the minimum: hoses and rescue equipment are worth considering. Ask your local fire service.