You need to login
to edit this page



Boeing Vertol 107 - CH-46 Sea Knight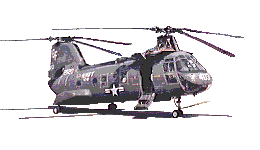 Developed as the YHC-14 in 1958 due an US army 's request for a medium-size turbine powered helicopter, was soon cancelled on behalf of the biggest CH-47 Chinook of the same company.


However, the US Marines test a modified version, the Model 107M , that was soon accepted as the HRB-1 and with the normalization of 1961 became in the CH-46


A real workhorse of the US Navy and Marines Corps since 1960, is primarily used to provide all-weather day or night assault transport of combat troops, supplies and equipment.


There were 625 H-46s built, with the final version being a CH-46F rolled off the assembly line in February of 1971. The E models were introduced later but as upgrade conversions of existing A, D & F models.

Including civil and foreign military variants, Boeing built 665 complete CH-46/BV-107-IIs, plus two sub-assembly kits for complete aircraft and parts kits for another 5 complete aircraft, for a total of 672.


While the United States Navy retired the airframe on September 24, 2004 , replacing it with the MH-60S Knighthawk, the Marine Corps plans to maintain its fleet until the Bell/Boeing V-22 Osprey is fully fielded.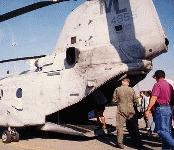 The model 107 was built with license in Japan by Kawasaki as the KV-107 and is also used in Canada as CH-113 Labrador / Voyageur and Sweden as HKP-4


On December 15th, 2006, Boeing transfered the Type Certificate for the Vertol 107 to Columbia Helicopters, Inc. which basically now makes Columbia the type design holder (owner). Columbia can now manufacture all parts up to and including the aircraft if they so desire in the future (after issuance by the Federal Aviation Administration FAA of a Production Certificate).





US Marine's CH-46 assault helo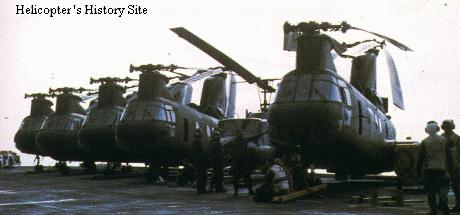 Note the size of the Bell 212 (UH-1N) between the Sea Knights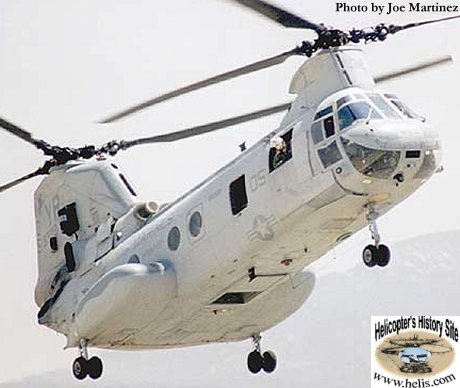 Thanks airshowfansh
| | |
| --- | --- |
| US Navy's UH-46 cargo / VERTREP / Utility helo | US Marine's HH-46 SAR helo "PEDRO" |
Canadian CH-113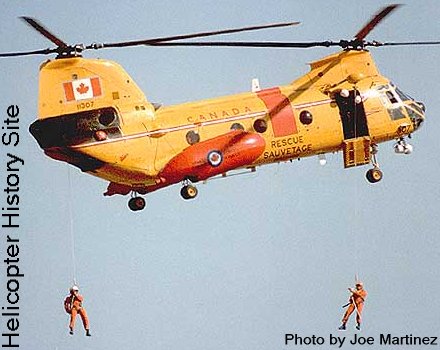 Functions: Assault / Cargo / SAR

First Flight : April 22, 1958

Crew / Load: 2 up to 28 (Depending the mission)

CH-46D :
Engines: 2 * 1400 shp General Electric T58-GE-10
Speed: 248 km/h -- Max: 260
Range: 380 km
Weight: Empty: 5827 kg -- Max: 10433
Rotor Span: 15.54 m
Length: 25.40 m
Height: 5.09 m
Disc Area: 379.56 m2
Cabin Section:
7.5 m(24 feet) long
1.8 m (6 feet) wide
1.8 m (6 feet) high

Greg Wood ( Orange Park Florida usa )
Minor: First line HC-14 replace with HC-1A (Helicopter/Cargo) US Army designation