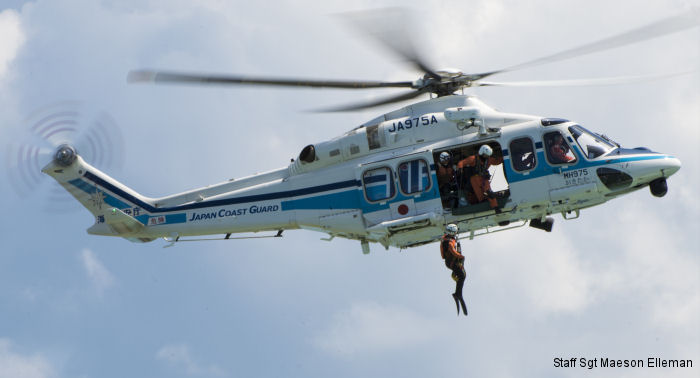 US/Japan Disaster Response Exercise in Okinawa, 05-Sep-15 : USAF 18th Wing participated for the first time in a bilateral disaster response exercise alongside Japan Self-Defense Forces and the Okinawa Prefectural Government at Atta Port
Japan Coast Guard Signs Contracts For Six More AW139s, 19-Jul-10 : AgustaWestland, a Finmeccanica company, and Mitsui Bussan Aerospace are pleased to announce that the Japan Coast Guard has signed contracts for six more AW139 medium twin helicopters. These aircraft will be deployed at Japan Coast Guard bases throughout Japan and used to perform search and rescue and maritime patrol missions.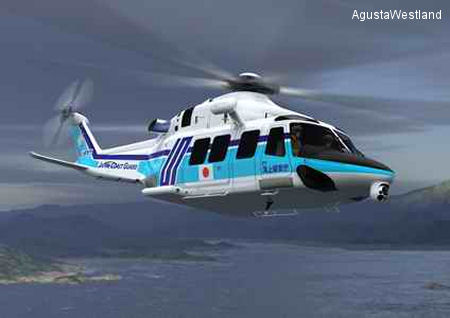 Japanese Coast Guard selects the AW139, 18-Oct-06 : AgustaWestland, in collaboration with Mitsui Bussan Aerospace is proud to announce that the Japanese Coast Guard has selected the AW139 helicopter to replace their ageing Bell 212's for deployment at Search and Rescue bases throughout Japan. Three helicopters have been ordered this year as the initial phase of a replacement programme for up to 24 helicopters.
C/N
Mod
Built
ID In this Organisation
In other Org


31204
2008
JA960A: Coast Guard /MH960 from Mar08

31206
2008
JA961A: Coast Guard /MH961 from Mar08

31207
2008
JA962A: Coast Guard /MH962 from Feb08

31216
2009
JA963A: Coast Guard /MH963 from Jan09

31218
2009
JA964A: Coast Guard /MH964 from Jan09

31354
JA965A: Coast Guard d/d Dec11 Yonago

31357
JA966A: Coast Guard d/d Dec11 Ishigaki

31358
JA967A: Japan Coast Guard Mar12 Niigata

JA967A: Mitsui Bussan Aerospace from Aug11

31360
JA968A: Japan Coast Guard Mar12 Ishigaki
09aug16 hard landing at Shichigahama, Miyagi prefecture

JA968A: Mitsui Bussan Aerospace from Aug11

31361
JA969A: Japan Coast Guard Mar12 Sendai

JA969A: Mitsui Bussan Aerospace from Oct11

31362
JA970A: Japan Coast Guard Mar12 Niigata

JA970A: Mitsui Bussan Aerospace from Dec11

31426
2012
JA971A: Coast Guard from Mar13

JA971A: Mitsui Sep12

31437
JA973A: Coast Guard Nov12

JA973A: Mitsui Bussan Oct12

31438
JA972A: Coast Guard Nov12

JA972A: Mitsui Bussan Oct12

31488
JA974A: Coast Guard Feb14

31494
JA975A: Coast Guard Nov12 From Feb14, test serial I-PTFS
05sep15 at the annual Okinawa Prefectural Government bilater+

31513
JA976A: Coast Guard Feb14

31514
JA977A: Coast Guard Feb14

18 C/N found in this Organisation