Indra Working on Simulator for Spanish NH90
Construction of first Level D Full Flight Simulator of the NH90 GSPA helicopter for the Spanish Army Aviation is underway by Indra. Scheduled to be ready by March 2019
Helis, November 22, 2017 - Indra, a global consulting and technology company, is developing its first Level D Full Flight Simulator of the NH90 GSPA helicopter for the Spanish Armed Forces.

The simulator is scheduled to be ready by March 2019 and will significantly improve the training of pilots whilst reduce the cycle cost of life of the NH90 aircraft.

It will be physically located at Agoncillo airbase in northern Spain but linked with other Indra-developed simulators for the Chinook, Cougar and EC135 helicopters located at Colmenar Viejo near Madrid, and the one for the Tiger at Almagro.

On October 2016, Indra won a EUR 77 million contract to develop the system with an estimate completion date of 2020.

The Spanish variant of the NH90 tactical transport helicopter, known as GSPA and dubbed locally the HT-29 Caimán, enter official service with the Spanish Army Aviation (FAMET) on September 2016. Sixteen helicopters are to be delivered through 2023.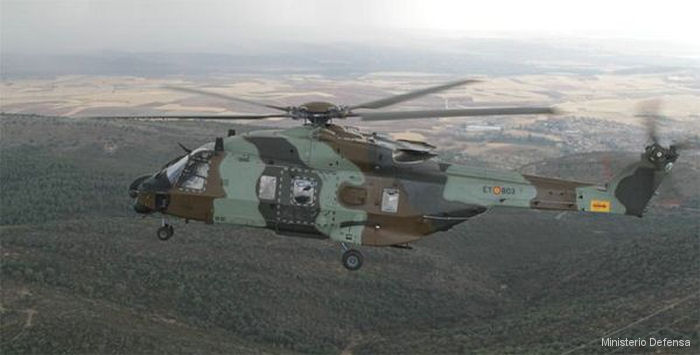 This article is listed in :
NH Industries NH90 TTH in

Fuerzas Aeromóviles del Ejército de Tierra
--Helicopters Flight School - Training Military

Agoncillo/Logroño