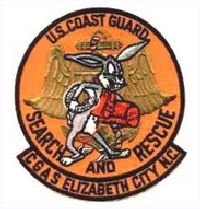 Elizabeth City is the largest and busiest US Coast Guard air station. As one of several commands located on the Coast Guard's premier Base Elizabeth City it also houses the Aviation Technical Training Center (ATTC) and the Aviation Logistics Center (ALC).

As of 2017 the air station operates 5 Hercules and 4 MH-60T Jayhawks
News about this Rotary Wing Unit :
New MH-65 Stands for CGAS Elizabeth City, 12-Sep-17 : S.A.F.E Structure Designs awarded the contract to design, engineer, and manufacture custom maintenance platforms for the US Coast Guard's fleet of MH-65's in Elizabeth City, NC
All Metal Maintenance Stands to USCG, 18-Apr-13 : hese multi-purpose maintenance stands were designed for use when performing both routine maintenance and complete overhauls on the MH-65, and can be used on all models of the Dauphin helicopter.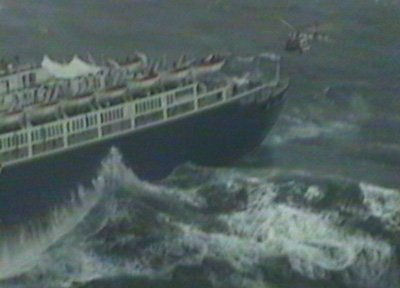 SeaBreaze Cruise liner Rescue, 17-Jan-01 :

On December 17, 2000 the US Coast Guard established a record for the HH-60J rescue helicopter when 26 evacuees were flown to safety from the cruise ship SeaBreeze I some 225 nautical miles east of Virginia
Construction Numbers for Elizabeth City
Help Us
C/N
Version
Built
In this Org
In other Org
62-039
hh-52a
1963
1362 : Sikorsky S-62C c/n 62-039, ff?; del USCG as HH-52A Seaguard 1362, Salem, M+

62-047
hh-52a
1369 : Sikorsky S-62C c/n 62-047, ff?; del USCG as HH-52A Seaguard 1369 unk; wfu +

62-065
hh-52a
1384 : Sikorsky S-62C c/n 62-065, ff?; del USCG as HH-52A Seaguard 1384 unk; wfu +

62-073
hh-52a
1392 : Sikorsky S-62C c/n 62-073, ff?; del USCG as HH-52A Seaguard 1392 unk; wfu +

62-077
hh-52a
1396 : Sikorsky S-62C c/n 62-077, ff?; del USCG as HH-52A Seaguard 1396 unk; wfu +

62-102
hh-52a
1418 : Jun69 exhibited at the Paris Air Show, Le Bourget as 'Elizabeth City'. br+

61-633
hh-3f
1969
1471 : probably overhauled at ARSC after the crash in AK and returned to duty at +

61-663
hh-3f
1972
1486 : Sikorsky S-61R c/n 61-663, ff?; del USCG as HH-3F 1486, 26Jul72; xfer AVTR+

70-623
hh-60j
6002 : 23sep95 pictured (top) at NAS Oceana. Presumably from nearby CGAS Elizabet+

70-655
hh-60j
6005 : conv MH-60T; 2010 CGAS Elizabeth City

70-661
hh-60j
6006 : Mar16 at Elizabeth City in yellow paint scheme as part of the centennial c+

70-1569
hh-60j
6009 : USCG; 1996 CGAS Elizabeth City
: Sep08 type MH-60J CGAS Elizabeth City

hh-60j
6010 : conv MH-60T; 2011 CGAS Elizabeth City

70-1588
hh-60j
6015 : Sikorsky S-70B-5, cn 70-1588, ff?; ordered by USN as HH-60J 163815; del US+

70-1699
hh-60j
6017 : Sikorsky S-70B-5, cn 70-1699, ff?; ordered by USN as HH-60J 163817; del US+

70-1785
hh-60j
6026 : conv MH-60T; 2010 CGAS Elizabeth City

70-1787
hh-60j
6028 : conv MH-60T; 2008 CGAS Elizabeth City
: w/o 03mar10 crashed in a remote snowy ridge of Silver Meadows, Utah. Two c+

70-1790
hh-60j
6031 : conv to MH-60T; 2010 CGAS Elizabeth City; 2012 still

70-1956
hh-60j
6035 : conv to MH-60T; 2010 CGAS Elizabeth City

70-1957
hh-60j
6036 : Sikorsky S-70B-5, cn 70-1957, ff?; ordered by USN as HH-60J 164820; del US+

70-2281
hh-60j
6040 : Jan18 CGAS Elizabeth City, NC

70-2282
hh-60j
6041 : USCG HH-60J; CGAS Elizabeth City

70-2283
hh-60j
6042 : 2006 appear stationed at CGAS Elizabeth City on The Guardian movie; pictu+

70-1576
sh-60f
6043 : USCG from 2006, ex SH-60F 164097 to replace 6020; rebuilt as MH-60T, f/f+

164097 : Sikorsky S-70B-4, cn 70-1576, ff?; del USN as SH-60F Oceanhawk 164097, unk+

6296
hh-65
6594 : MH-65E prototype f/f 28oct15 at Aviation Logistics Center Elizabeth City

25 serials found for Elizabeth City