You need to login
to edit this page



Kamov Ka-27 Helix / Ka-32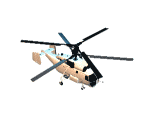 Designed to replace the Ka-25 Hormone as ship on-board helicopter of the Soviet Navy. Compared to the Ka-25 it has more powerful engines, a bit longer fuselage and a redesigned tail.

Variants include the search-and-rescue (SAR) Ka-27PS, the simplified export anti-submarine warfare (ASW) version Ka-28, the air assault transport Ka-29, the Ka-31 airborne early warning helicopter equipped with the E801M Oko (Eye) surveillance radar and the Ka-32 civilian transport which has achieved some success in western markets since the demise of the Soviet Union.






Functions: Ship on board helo
First Flight : 1978 ?
Load: Up to 20


Engines: 2 * Isotov TV3-117 of 2225 hp
Top Speed: 250 km/h
Range: max. 800 km
Ceiling: 6.000 m
Weight: 11.000 Kg - Sling: 5.000
Rotor Span: 16 m
Length: 11 m
Height: 5.40 m
Disc Area: 199 m2



Contribution: Russian Aviation Page and the War Toys Site



michael ( houston texas usa )
the ka-27 come in four versions, the ka-27, 28, 29, and 32. the ka-27 is a naval helicopter with the co-axial rotors, having two variants, the ka-27pl which are used in pairs for anti-submarine use, and the ka-27ps which is used for search and rescue. the ka-28 is an export version of the ka-27pl. the ka-29 and ka-29tb are assault transport helicopters. the ka-32t is a utility transport helicopter, and the 32s is a utility version for operating in adverse weather. the 32k is a flying crane version of the ka-27.