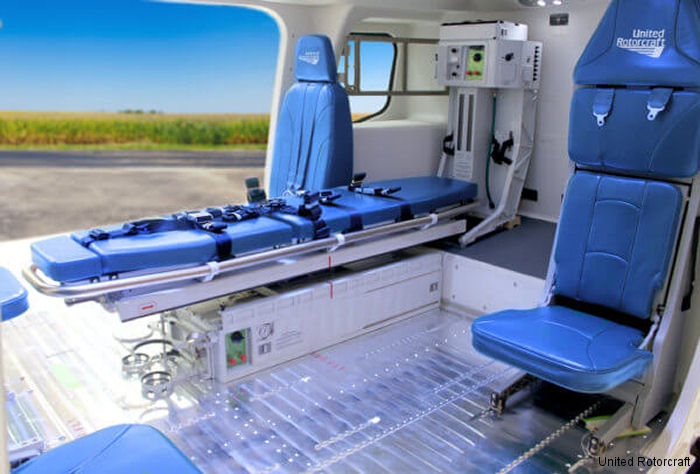 Seven AW169 EMS Kits for UK's SAS, 22-Aug-16 : UK's Specialist Aviation Services (SAS) awarded contract to Air Methods's United Rotorcraft for 7 AW169 ambulance interior kits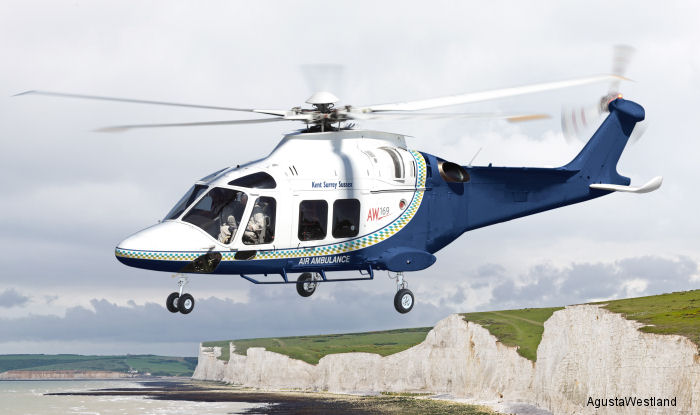 AW169 for Kent, Surrey and Sussex Air Ambulance, 15-Jul-14 : AgustaWestland is pleased to announce that the Kent, Surrey & Sussex Air Ambulance Trust (KSSAAT) has selected the new generation AW169 twin-engine light intermediate helicopter to perform emergency medical service missions. The aircraft will be operated by Specialist Aviation Services (SAS) for the KSSAAT.
C/N
Mod
Built
ID In this Organisation
In other Org


69014
2016
G-KSST: Specialist Aviation Services from 08feb16 for KSSAAT

I-RAIS: AgustaWestland Dec15


---

G-KSST: Kent Air Ambulance from Jun16, op by SAS


---

11oct16 pictured on display at Helitech 2016

69023
2016
G-LNAC: SAS from Sep16, test serial I-RAIS for LNAACT

G-LNAC: 21dec16 at Gloucestershire Airport


---

LNAACT from Jan17; Sep17 pictured started carrying bloo+

69027
2016
G-DSAA: SAS from Oct16, for DSAA

G-DSAA: Dorset & Somerset Air Ambulance (DSAA) Nov16; 12jun17 e+


---

16aug17 first landing at Royal Bournemouth Hospital (RB+

69038
G-TCAA: SAS, test serial I-EASJ for Childrens Air Ambulance

G-TCAA: Children Air Ambulance, op by SAS

69049
2017
G-HHEM: SAS from Apr17, test serial I-RAIM

G-HHEM: Herts and Essex Air Ambulance


---

05sep17 13:45hs Landed Belswains School field, Hemel He+


---

22sep17 landed at Kensington Gardens, London


---

Herts and Essex Air Ambulance; 04oct17 pictured at Exce+

5 C/N.