The RSRA
( Rotor Systems Research Aircraft )
was an experimental hybrid helicopter / fixed-wing aircraft funded by DARPA and developed by Sikorsky for
NASA
and the
US Army
. Configured with rotor, wings and auxiliary jets, the RSRA allows testing of new rotor concepts at speeds up to 300 knots. It can fly like a helicopter with a wing and jets, or as a fixed-wing aircraft without a rotor.
The S-72 was powered by two General Electric
T58-GE-5
turboshaft engines, it has the rotors of the
S-61 Sea King
and the landing gear of the F-5 Tiger fighter jet. Furthermore, in its final form, has wings and 2 General Electric TF34-GE-400A turbofans like those of S-3 Viking antisubmarine aircraft.
The RSRA was a unique pure research aircraft developed to fill the void between design analysis, wind tunnel testing, and flight results of rotor aircraft. The joint NASA/Army project began in December of 1970, the first flight was on October 12, 1976 with the first of two aircraft arriving from Sikorsky to NASA on February 11, 1979.
The aircraft was designed to investigate the concepts involved with stopping the main rotor in flight, with the large blades then providing aerodynamic lift assistance to the stubby conventional wings extending from the lower fuselage. This concept gave the aircraft the vertical flight stability of a helicopter, and the horizontal cruise capability of a conventional aircraft.
This machine incorporates a world's certified
helicopter crew ejection system
where the blades are severed in sequence and rockets pull the crew to safety.
Dryden Flight Research Center, Edwards, California, 1984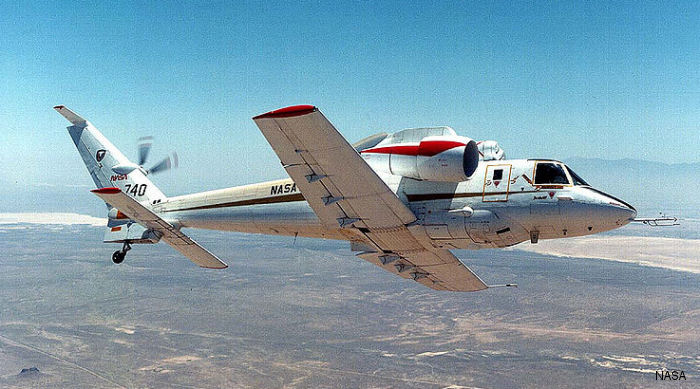 The RSRA served also as the flying test bed for the
Sikorsky X-Wing
. This revolutionary rotor was designed to allow an aircraft to take off and and land vertically, yet fly like a conventional airplane with the rotor stopped. The modified airframe was rolled out in 1986, but never flew before the program was canceled in 1988.
List of Aircraft
- Aircraft #1, c/n 72-001, received NASA serial 740 and N740NA between January 1980 and September 1992. As of 2013,
remains
in bad shape at Fort Rucker, Alabama.
- Aircraft #2, c/n 72-002, received NASA serials 546, 741 and N741NA between February 1979 and October 1994. Remained stored at NASA Ames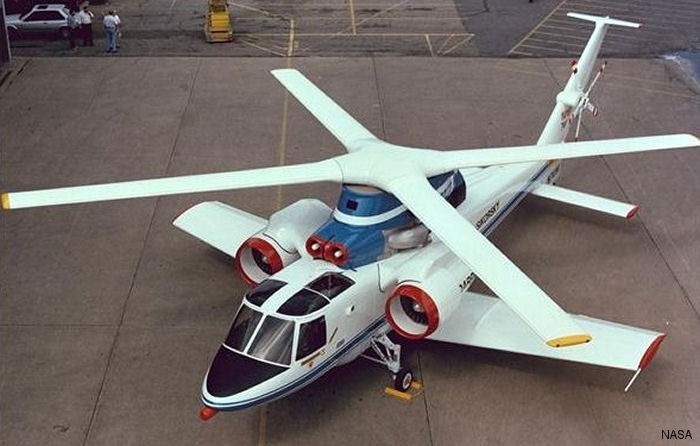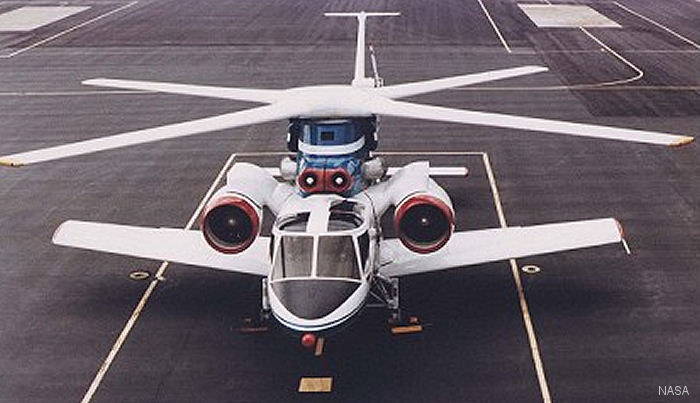 S-72 Rotor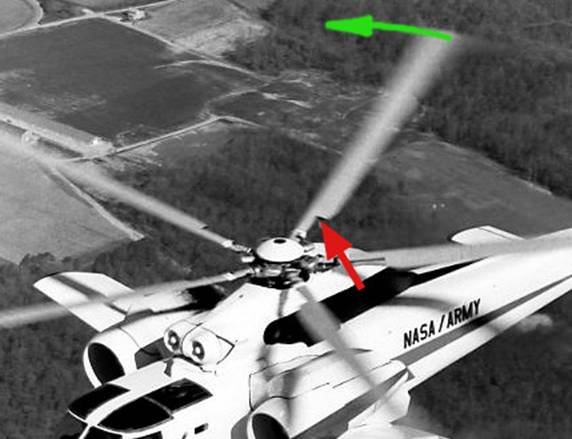 User Contributed Notes



michael mooney ( chicago il usa )
s72 rotor turns counter clockwise

malcolm ( porth mid glam, wales united kingdom )
I agree with stated direction but from the driven side it is clockwise. it is customery to view the rotor in plan from the top.

John A. Eller ( scarrlettoshara )
The S-72 main rotor as viewed from the top,and most all other Sikorsky helicopters,rotate counter-clockwise. Observe the first/inboard pocket of a main rotor blade where it is attached to the spar. I had been an experimental crew chief and flight inspector at Sikorsky for many years. Mr.Harry D. Hunt was a crew chief on the S-72,RSRA.



Add note to this page