Helicopter Sikorsky H-34G.I Serial 58-740 Register N589S N392JK N902CH LV-OCM H-02 N7320 80+06 used by State of California ,CHI Aviation (Construction Helicopters Inc) ,Helicopteros Marinos HMSA ,Fuerza Aerea Argentina FAA (Argentine Air Force) ,Carson Helicopters ,Heeresflieger (German Army Aviation). Built 1957. Aircraft history and location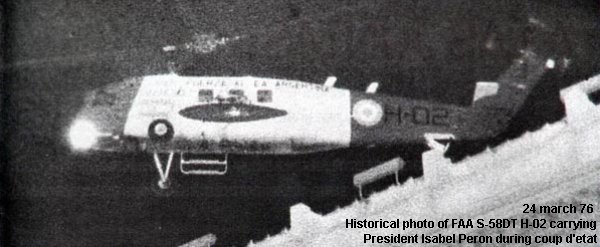 For 80+06 see also:
105m c/n 5006





80+06

Heeresflieger
1957-12-10
Sikorsky H-34G.I, c/n 58-740, ff?
del W.Germany as H-34G.I, PB+202, 10Dec57
recoded QB+462, unk
recoded PZ+331, unk
recoded 80+06, unk




N7320

Carson Helicopters

Sikorsky S-58T xfer Carson Helicopters, Perhaskie, PA as N7320, unk
conv S-58ET, unk

1975-02-19

Sikorsky S-58T 19feb75



H-02

Fuerza Aerea Argentina
1976-03

A

Casa Rosada

Sikorsky S-58T FAA d/d 1975 S-58DT type as presidential aircraft
ex N-7320
1976 evacuate President Isabel Peron during Coup detat
1978 camouflaged and assigned to Marines during Beagle crisis
wfu 1980 to civ Helicopteros Marinos as LV-OCM



LV-OCM

Helicopteros Marinos
Helicopteros Marinos dd 1980
ex FAA H-02
apr/jun1982 briefly seized by FAA during Falklands/Malvinas War used by Escuadron Fenix
1985 sold to civ USA erroneously as 58-470/58-740



N902CH

CHI Aviation
1985-05-14
Construction Helicopter from 14may85, [not to be confused with 58-1539]
xfer Aris Helicopter, Jun89.



N392JK

State of California
1991-01-23
xfer LA County Sheriff as N392JK, 23Jan91
xfer Longranger III, 01Aug00.



N589S

-
2002-04-29
xfer McMahon Helicopter as N589S, unk
xfer Solley Construction, 29Apr02
xfer 5 State Helicopter as N589S, unk
status unk.
| | |
| --- | --- |
| | |