Satellite and aerial maps of RNAS Yeovilton with nearby locations
Toggle Map
1940 to present

51° 0' 34'' N - 2° 38' 20'' W
4nm N of Yeovil, Somerset
ICAO: EGDY
IATA: YEO
Elevation: 75 feet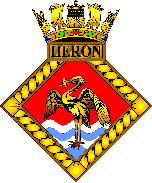 Construction began in 1939 and the Naval Observer School moved in during mid 1940, while building works were still in progress. The site was commissioned as
HMS Heron
on 18 Jun 1940. The paved runways were completed by 1941 and the base was home to the Naval Air Fighter School and units which were working up prior to embarkation. As the
Fleet Air Arm
contracted after WWII it reverted primarily to a training role. With the coming of the jet era, Yeoviltons main runways were extended during 1952 and it became the HQ of Flag Officer Flying Training in May 1953. Carrier jet fighter operations continued until 1957 when the runways were again improved and upgraded aprons were provided while the base was temporarily closed.

The control tower was improved during 1961 and the School of Fighter Direction moved back the same year, whose last Sea Venoms were retired in 1965. Further works to improve the airfield were completed in time for the arrival of the Phantom FG.1 as a carrier-borne fighter in 1968. In 1970, it became the HQ of Flag Officer, Naval Air Command (FONAC), when the Flag was transferred in from
Lee-on-Solent
(then known as HMS Daedalus). With the retirement of the fixed wing aircraft carriers, the Phantoms transferred to the
RAF
and departed for
RAF Leuchars
in 1972, leaving the base as the home for the Commando Helicopter Squadrons and the fixed wing Fleet Requirements and Aircraft Direction Unit (FRADU).

RNAS Yeovilton was selected as the main shore base for the Navy's fleet of Sea Harrier FRS.1 (and later, F/A.2s) and the first examples arrived in 1979. After trials of Lieutenant Commander Douglas Taylor's innovative ski-jump in 1977, a ramp was installed at Yeovilton for practice ski-jump assisted take-offs, near the eastern end of 09/27. The Sea King HC.4 gradually replaced the Wessex HU.5 with the Commando Assault Squadrons from 1980 and following the closure of RNAS
Portland
in 1999, HMS Heron became the main shore base for the Lynx fleet.

RNAS Yeovilton is also home to that shrine of UK Naval Aviation, the magnificent
Fleet Air Arm Museum
.