Satellite and aerial maps of RAF Honington with nearby locations
Toggle Map
1937 to present

52° 20' 29.75'' N - 0° 46' 53.25'' E
Honington
ICAO: EGXH
IATA: BEQ
Elevation: 174 feet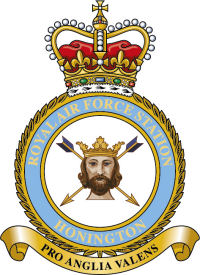 Opened in May 1937 as part of RAF 3 Group, Bomber Command, it was used extensively by the USAAF during WWII, until handed back to the RAF in 1946.
Iconically, Honington was home to part of the RAF Buccaneer force between 1969 and 1984. During 1994, the force protection schools and HQ of the RAF were concentrated here and routine operational flying effectively ceased.
The base is within 10nm of the major USAF bases at Mildenhall and Lakenheath and provided a
clutch
air traffic Approach service for all three stations. A pair of helipads are in use near the southern dispersal.