Movies
Emergency! (1972 - 1977)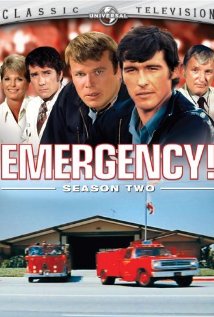 USA - Drama / Adventure / Action
Filmed in Apartments, Backlot, Universal Studios - 100 Universal City Plaza, Universal City, California, USA



This series features the adventures of the paramedics of Los Angeles County Fire Dept. Station 51, John Gage and Roy Desoto. Together they respond to emergencies ranging from false alarms to major disasters. As at this time, the Paramedic program, which is designed to keep emergency patients alive long enough to get to medical facilities, is still a relatively recent service, the paramedics must be guided by licensed medical personnel through radio contact on site. This is where the staff of Rampart Hospital come in with doctors Brackett and Early as well as Head Nurse McCall providing the necessary instructions for the paramedics to do their jobs. In addition to that, we see the work of the medical staff on their own as deal with the medical problems they encounter.








Individual helicopters
Model
c/n
Sikorsky HH-52A Sea Guard
62-053
US Coast Guard
1375 Appeared in Season 2, Episode 8 of the 1970s TV series Emergency!
Sikorsky HH-52A Sea Guard
62-125
US Coast Guard
1442 1442 was featured in several episodes of the TV Series Emergency! during the 1970s. It had decals that showed it being assigned to the Los Angeles area