Movies
Red (2010)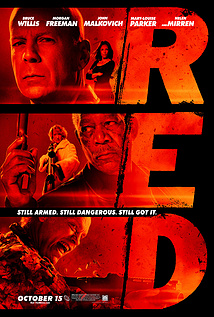 USA - Action / Comedy / Crime / Thriller
Filmed in Toronto Reference Library, 789 Yonge Street, Toronto, Ontario, Canada



Frank (Bruce Willis) is retired, bored and lonely living off his government pension in a nondescript suburb in an equally nondescript house. The only joy in Frank's life are his calls to the government pension processing center when he gets to talk to his case worker Sarah (Mary-Louis Parker). Sarah is as bored and lonely as Frank and marks her conversations with the unknown Frank and her spy novels as the only things fun in her life. When something in Frank's past forces Frank back into his old line of work and puts an unwitting Sarah in the middle of the intrigue, Frank and Sarah begin a journey into Franks past and the people he used to work with. Like Frank they are all RED ... Retired Extremely Dangerous.








Individual helicopters

Bell 206L Long Ranger
N9748C

Bell 206L type; 2010 pictured appearing on the Red #1 (Retired, Extremely Dangerous ) film with fake serial; N9748C is reserved FAA registration for entertainment usage as a false tail number already used by many types of aircraft.