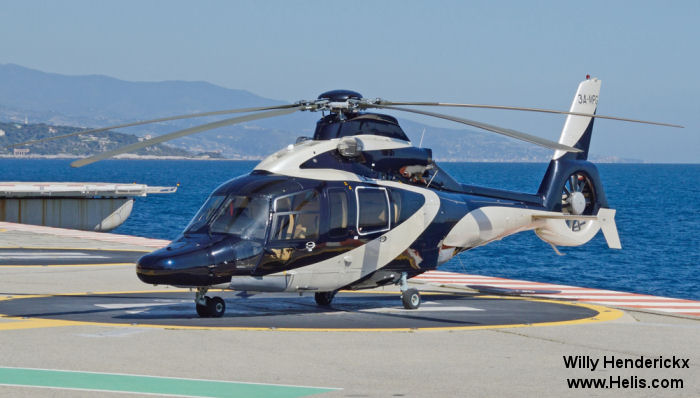 Built by Eurocopter France, was the succeesor of the
EC155B
and is powered by two Turbomeca Arriel 2C2 FADEC engines. Maximum take-off weight (MTOW) increased by 120 kg to 4,920 kg and with 10% extra engine power.
Eurocopter Southeast Asia
was the first subsidiary certified to upgrade 155B airframes starting with those from
SSFC
.
From 2014 produced by
Airbus Helicopters
Midden-Zeeland Airport New Terminal, 25-Apr-18 : Dutch Midden-Zeeland airport offering new transportation options to the offshore wind energy industry. NHV' EC155 flying to the East Anglia One wind farm inaugurated the new terminal.
Corporate Helicopters receives new EC155, 22-Oct-13 : Las Vegas, Nevada – Corporate Helicopters of San Diego has taken delivery of a new, customized EC155 helicopter equipped for Corporate and VIP transportation missions. The luxurious and powerful EC155 was purchased from American Eurocopter, which continues to provide a range of state of the art helicopters for business transportation.