The Italian Navy ordered 46 NFH known as SH-90A plus 10 TTH known as MH-90A in MITT (Maritime Italian navy Tactical Transport) transport configuration for amphibious / special forces support but retaining some of the NFH features such as Automatic Folding Blades, etc for shipborne operations.

As of February 2017, 23 NFH and the first MITT were delivered.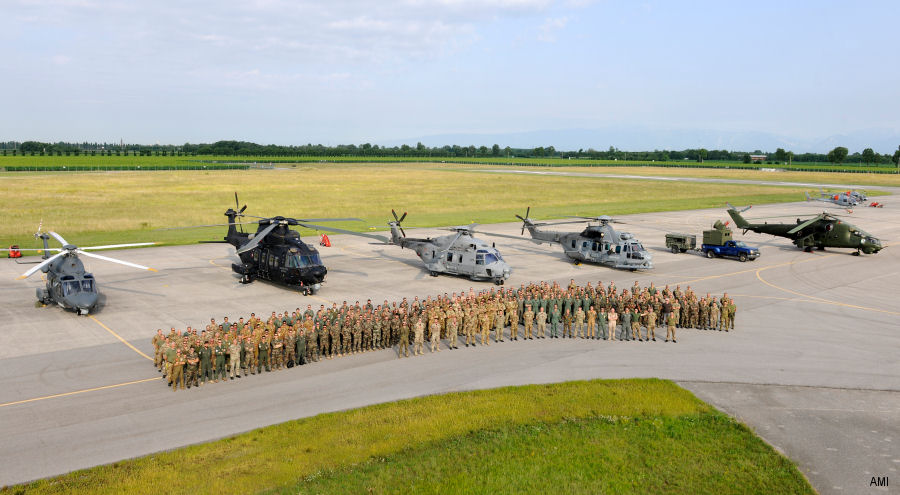 APROC 2017, 28-Jun-17 :

Italian air force held the Air Centric Personnel Recovery Operatives Course (APROC), the main training event in Europe in combat search and rescue.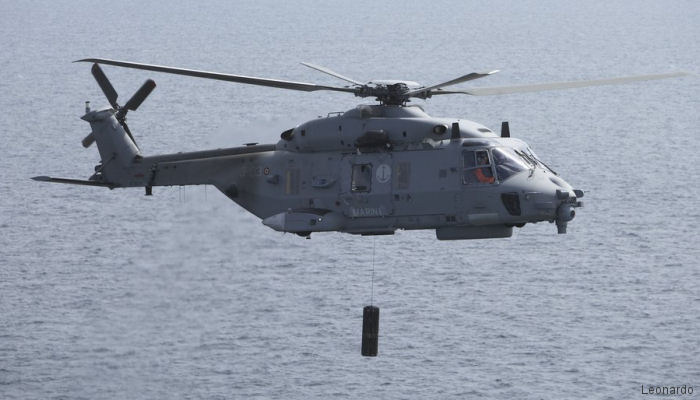 Italian Navy NH90 to be Upgraded With Mode 5 IFF, 21-Feb-17 : Italian Navy NH90 NFH helicopters to be upgraded with New Generation Identification Friend or Foe (NGIFF) systems under €11M contract by NATO agency NAHEMA (NATO Helicopter Management Agency)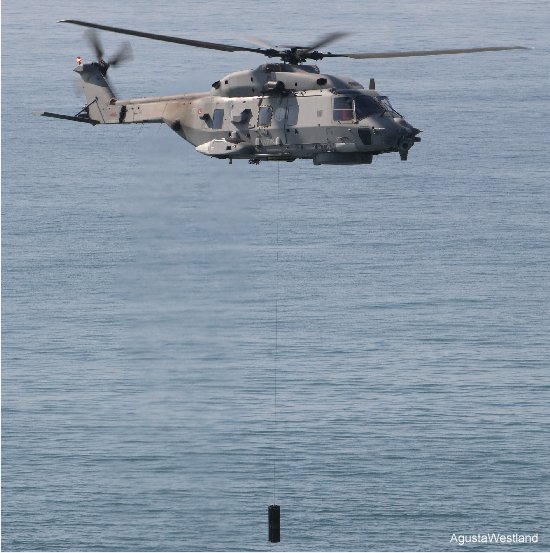 Italian Navy NH90 with Mission Planning and Analysis System, 25-Jan-12 : AgustaWestland, a Finmeccanica company, is pleased to announce that the Italian Navy will receive a Mission Planning & Analysis System (MPAS) for its fleet of NH90 NFH medium twin naval helicopters. The MPAS contract, signed between AgustaWestland and NAHEMA (NATO Helicopter Management Agency), fulfills the requirement for a multi-mission and multi-platform mission planning system that will be available in time for the early operations of the first batch of Italian Navy NH90 helicopters. The MPAS will also be compatible with similar planning systems in use by other European Armed Forces and capable of being expanded to support additional helicopter platforms and provide a secure interface.
Italian Navy NH90 First Flight, 20-Dec-05 : NHIndustries on behalf of AgustaWestland, a Finmeccanica company, announces that the first Italian Navy serial production NH90 took to the air on Thursday the 15th of December at AgustaWestland's Vergiate facility in Italy. The flight started at 16.00, lasting 35 minutes.
C/N
Built
ID In this Organisation
In other Org


1004
2005
MM81577: Marina 3-01 o/o

CSX81577: 440004/HITN01; AgustaWestland 2006; 2011 still


---

02mar17 test flight at Venice

1019
MM81578: 440019/HITN02, Marina 3-02, test serial CSX81578

1024
MM81579: 440024/HITN03; Marina 3-03, test serial CSX81579; 2010 SA+

1033
2011
MM81580: HITN04; Marina 3-04 d/d June 2011

1042
MM81581: HITN05; Marina 3-05

1070
2011
MM81582: HITN06; Marina 3-06 pictured on d/d 16dec11

1167
MM81583: Marina 3-07; May14 grupelicot 5

1104
2014
MM81584: HITN08, Marina 3-08; May14 grupelicot 5

1179
2014
MM81585: HITN09, Marina 3-09; May14 grupelicot 5

1188
2014
MM81586: HITN10, Marina 3-10, noted Nov14

1191
2014
MM81587: HITN11, Marina 3-11; May14 grupelicot 5

1328
MM81588: HITN12, Marina 3-12

1321
MM81589: Marina 3-13; Sep15 grupelicot 4

2015
MM81590: HITN14,Marina 3-14; Sep15 grupelicot 4

1323
MM81591: Marina 3-15; Apr15 grupelicot 4

MM81592: Marina 3-16

1329
MM81593: HITN17, Marina 3-18; Apr16 grupelicot 5

MM81594: HITN18, Marina 3-19

MM81595: HITN19, Marina 3-20

MM81596: HITN20 Marina 3-21

1350
MM81597: HITN21 Marina 3-22

MM81598: HITN22 Marina 3-23

MM81599: HITN23 Marina 3-24, test serial CSX81599

1370
2016
MM81623: Marina 3-51, first MH-90A MITT [Maritime – (Navy) Italian +

1384
MM81624: Marina 3-52, second MH-90A MITT [Maritime Italian Tactical +