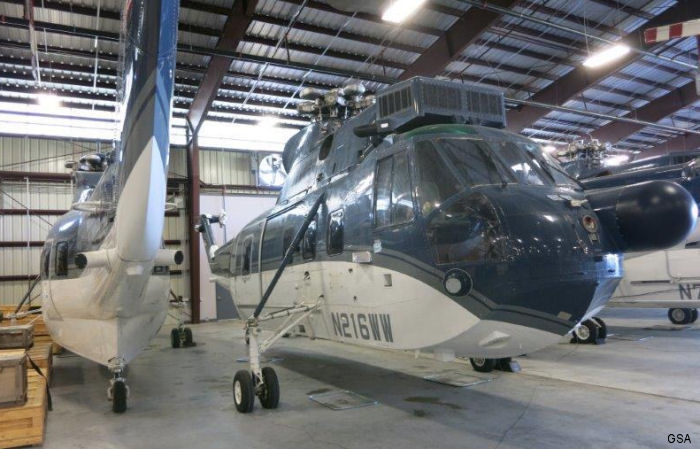 Up to 110
S-61T Triton
refurbished aircraft ordered in 2010 to be used in Afghanistan and places around the world. Four aircraft were to be delivered before the end of the year with the next 13 throughout 2011.
As of 2018, only 13 were delivered with most of them going directly to storage in Southern Florida. In 2019 the General Services Administration (GSA) began auctioning off them
---
The US State Dept started to take delivery of 13 S-61T helicopters in January 2015. Eventually, 5 S-61T aircraft were stationed in Cyprus at
RAF Akrotiri
and 6 S-61T aircraft were stationed in Iraq at the Baghdad Diplomatic Support Center (BDSC) at
Baghdad IAP
.
Two S-61Ts were stationed at
Patrick AFB
, FL for pilot training. S-61Ts stationed overseas supported US State Dept passenger transport and emergency evacuation duties for the US Embassies in Iraq and Lebanon. US State Dept S-61T operations ceased in 2017 with all aircraft being redeployed to the US and put into long-term storage at the US State Dept hangar in Sanford, FL.
None of the 13 S-61Ts were ever stationed in
Afghanistan
. Prior to the delivery of the S-61T, the US State Dept took delivery of 16 S-61N-ML aircraft.
The
S-61N-ML
was acquired as an interim aircraft while the US State Dept's 13 S-61T aircraft were being produced. The S-61N-ML was essentially a civilian S-61N that had been modified with military avionics, a missile warning system, ballistic plating and NVG compatible cockpit lighting. Initially, the first four S-61N-MLs were deployed to Afghanistan, but were found to be not suited to that country's hot and high flight environment. In less than a year, these aircraft were re-deployed to Iraq. Eventually, 13 S-61N-MLs were stationed in Iraq for Embassy operations and 3 S-61N-MLs were kept in Perkasie, Pennsylvania for pilot and aircrew training out of
Pennridge Airport
(CKZ). In September 2013, 4 S-61N-ML aircraft were re-deployed to Cyprus (RAF Akrotiri) to support emergency evacuation operations of the US Embassy in Beirut, Lebanon.
By May 2015, all 16 S-61N-MLs were taken out of serviced and stored in Sanford, FL. These aircraft were later sold to several civilian aircraft operators though the GSA process.

Troy Completes First S-61 Modernization for State Dept, 23-May-12 : Sikorsky's Troy facility in Alabama completed the structural modernization of the first S-61T Triton helicopter for the US State Department diplomatic service in Afghanistan. Airframe will now undergo final completion at Carson Helicopters