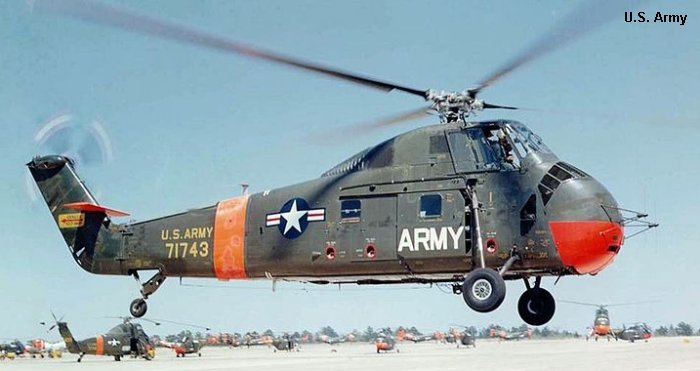 The S-58 was initially known as the
H-34A Choctaw
in US Army service. 359 H-34As were produced and were known as the CH-34A after the US designation consolidation. Of these, a number were converted to the VIP VH-34A communications version, the CH-34B and the airborne search equipped CH-34C.

---
Steve Barusso, Gloucester Massachusetts
- I was a young Paratrooper with the 101s.Airborne who had the privilage as well to be a crew chief. We Had quite a few H-34A in our flight (The original 101st. Aviation co) Which was later known in 1965 or 1966 as the 101st Aviation Battallion. We had tail#s 4470, 71, 72, 73, 74 ,75, 76 ,77, 78, 79, 80, 81, 82, 83, 84. We also had H-13G and a couple of fixed wing L-19 and L-20. Last winter I had the honor of taking a short ride in the left seat of a converted H-34, that was updated to do heavy lifts for a company in Tampa, Fl. It was like I was never away from the H-34 (54 years later). Back in late 1959, as a member of the 101st Aviation Co. Command and Control Battalion. I made several trips to the Sikorsky plant in Bridgeport with another crew to Fly new H-34A,s to Mobile Alabama, where we folded the blades back in a saddle and folded the pylons (tail Rotor) section back and then covered the canopy with covers for the trip via cargo carriers to Laos Vietnam. I believe we were the first Div. that started shipping aircraft there at that time.