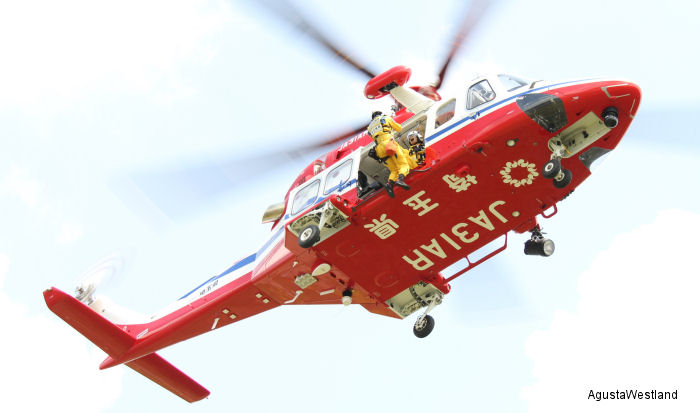 AgustaWestland, July 14, 2014 - AgustaWestland and Mitsui Bussan Aerospace are pleased to announce that the Yokohama City Fire Department has ordered a second AW139 intermediate twin helicopter to further enhance its operational capabilities.

The Yokohama City Fire Department received its first AW139 last year whilst the second aircraft is scheduled to enter service in 2015 and will replace an ageing model.

The AW139 has proven extremely successful in Japan performing a wide range of public utility roles including search and rescue and coast guard duties with the Japan Coast Guard, law enforcement, firefighting and disaster relief with the Japan National Police Agency, Tokyo Metropolitan Police and Fire and Disaster Management Agency, as well as several prefectures and city authorities. All Nippon Helicopter (NHK) and Kansai TV have chosen the AW139 to carry out Electronic News Gathering (ENG) missions across the nation. The growing success experienced by the type is recognition of the aircraft's class leading performance, its modern design and the only helicopter in its class to meet or exceed all the latest safety requirements.

The only new generation helicopter in its weight class, the AW139 sets new standards of performance in its category with a maximum cruise speed of 165 knots (306 km/h) and a maximum range in excess of 570 nm (1060 km) with auxiliary fuel. The aircraft has outstanding one engine inoperative capabilities, even in the hot and high environmental conditions. The AW139 also features the largest cabin in its category.

The AW139, together with the next generation AW169 and AW189 models, is part of the AgustaWestland Family of new generation helicopters which possess the same high performance flight characteristics and safety features, as well as sharing a common cockpit layout, design philosophy and maintenance concept. This commonality will allow more effective operations for customers operating helicopter fleets across the 4 to 8.5 tonne categories.

With orders for over 770 aircraft in more than 60 countries from over 200 customers and over 650 aircraft already in service, the AW139 is the best-selling medium twin helicopter in the world.

Finmeccanica - AgustaWestland's success in the Japanese helicopter market continues to grow with strong sales in recent years across its complete commercial product range. Agustawestland Japan's headquarters, located in Tokyo, has been supporting the company's growing business in Japan since 2008. The helicopter fleet in Japan is also supported by four official service centers which provide maintenance and repair services, confirming Finmeccanica - AgustaWestland's commitment to current and future rotorcraft requirements in Japan.
AW139 in

Fire and Disaster Management Agency

Yokohama City Fire Department
Fire and Disaster Management Agency