Bell Helicopter, September 16, 2016 - African Aerospace and Defence, South Africa – Bell Helicopter, a Textron Inc. company, is proud to announce that Rhino911, a non-profit organization established by Fred Hees, President of BBM Inc. USA , in cooperation with Heli Africa Wildlife, the operator, will use the Bell 407GT to combat Rhino poaching to curb the rising number of Rhino kills in South Africa and surging demand for illegal Rhino horn.

Rhino911's goal is to stop the poachers long before they reach their targets. Unlike any other active anti-poaching effort, Rhino911 benefits from tactical air assets and support groups flying the specially equipped Bell 407 helicopter. Operators will find and intercept poachers of Rhinos and other endangered species from extended ranges with advanced night vision (NV) and FLIR/WESCAM thermal imaging and other advanced sensors.

The sensors on the Bell 407GT are capable of discerning and tracking personnel from extreme distance as well as analyzing and pinpointing possible hides and entrance, exit routes poachers use, allowing timely and effective action by law enforcement authorities.

"As a South African, I wanted make a difference and help save the Rhino species from extinction," said Fred Hees, President of BBM Inc. "Currently, a major challenge facing counter-poaching helicopter pilots is that they are not equipped with night vision and sensing systems, so they cannot operate at night and track poachers before or during the act. Our Bell 407GT and other Bell helicopters will change this equation entirely; we are able to fly day or night, isolate, track and pinpoint intruders to support anti-poaching efforts."

"Rhino911 is a fantastic initiative and we are proud that the Bell 407GT will take part in this adventure with BBM Inc.," said Patrick Moulay, EVP Global Sales, Bell Helicopter. "The advanced Bell 407 helicopters can operate far beyond the visual range of the poachers, are camouflaged, fitted with low visibility, low-noise blades and equipped with reinforced under-carriages, designed to protect the crew from hostile action."

The Bell 407 platform benefits from class leading performance, payload capability and operating economics, ideal for accomplishing multiple missions including anti-poaching. With over 1300 Bell 407 helicopters operating around the world in a variety of missions from parabublic, HEMS, SAR and corporate transport, the aircraft has proven its versatility and can easily be retrofitted with kits to accomplish a variety of missions. The M250 Rolls-Royce engine boosts power and fuel efficiency delivering best in class hot and high performance, perfect for the hot African climates.

Rhino911 has been in contact with the relevant government authorities in RSA and will soon be contacting and collaborating detailed operational plans with existing Rhino and anti-poaching groups, private Rhino reserves, the Rhino Owners Association and key role-players in the Game Industry in order to ensure that all parties tackle the poachers in a holistic and controlled manner.

About Bell Helicopter: Bell Helicopter, a wholly owned subsidiary of Textron Inc. (NYSE: TXT), is an industry-leading producer of commercial and military, manned and unmanned vertical-lift aircraft and the pioneer of the revolutionary tiltrotor aircraft. Globally recognized for world-class customer service, innovation and superior quality, Bell's global workforce serves customers flying Bell aircraft in more than 120 countries.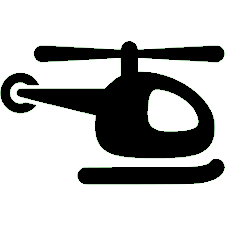 Aircraft mentioned in this article :
407GX N407GT ( )


Bell 407GT


Department of Environmental Affairs
Fighting Poaching in Africa with the H125