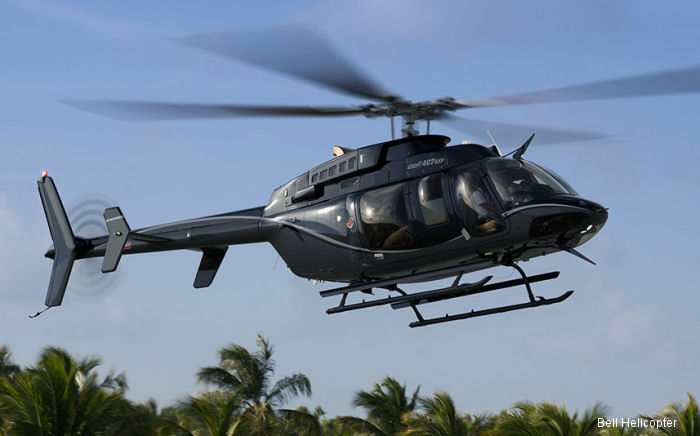 Bell Helicopter, May 27, 2015 - Fort Worth, Texas – Bell Helicopter, a Textron Inc. company, announced today the sale of the first Bell 407GXP in Panama.

The aircraft is scheduled to be delivered in July 2015 and will be outfitted to perform corporate and VIP transport in the region for Urban Development Group (UDG).

"The reliability of Bell helicopters have been proven to us over the years with the use of our Bell 407GX," said Gabriel Diez, CEO at Urban Development Group. "We are thrilled to integrate the new Bell 407GXP into our operations with its state-of-the-art features and superior performance."

UDG is a Panamanian family-owned business with over 40 years experience in the construction industry. Their operations include commercial and residential projects that are designed and created to ensure quality and customer satisfaction.

"We look forward to continuing our relationship with UDG and delivering the first Bell 407GXP into Panama," said Jay Ortiz, Bell Helicopter's vice president for Latin American sales. "We believe the proven capabilities of this aircraft will continue to attract operators throughout the region."

This year at Heli-Expo 2015 in Orlando, Fla., Bell Helicopter introduced the new Bell 407GXP. The new aircraft is derived from the Bell 407GX platform with updates that provide an additional 50 lbs (22.5 kg) of payload capability, coupled with a new M250 Rolls-Royce engine that improves performance and fuel efficiency delivery class leading hot and high performance. The Bell 407GXP is also equipped with new avionics features such as hover performance calculator improvement, as well as transmission TBO extension of +500 hours that will lower maintenance costs.

Bell Helicopter, a wholly owned subsidiary of Textron Inc., is an industry-leading producer of commercial and military, manned and unmanned vertical-lift aircraft and the pioneer of the revolutionary tiltrotor aircraft. Globally recognized for world-class customer service, innovation and superior quality, Bell's global workforce serves customers flying Bell aircraft in more than 120 countries.
Bell 407GXP