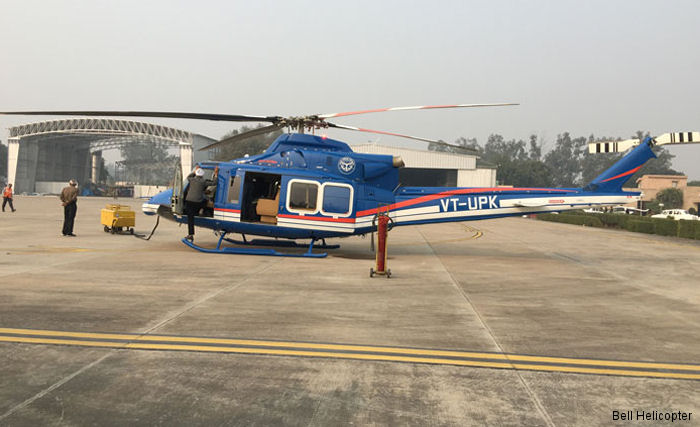 Bell Helicopter, February 15, 2016 - SINGAPORE – Bell Helicopter, a Textron Inc. company, announced today the delivery of the first Bell 412EP with STC SR09600RC (Bell 412EPI ) to the Government of Uttar Pradesh in India.

The aircraft will be used for VIP transportation throughout the region.

The Bell Helicopter team delivered the Bell 412EP in early December at the State Capital – Lucknow.

"We have had a long-standing relationship with the Government of Uttar Pradesh for more than 20 years, and the Bell Helicopter team is proud to deliver one of the most reliable and versatile helicopters on the market," said Sameer A. Rehman, managing director of Bell Helicopter, Asia Pacific. "The Bell 412 continues to attract customers worldwide, and the upgraded Bell 412EPI offers advanced features and technology that perform any given mission in extreme environments with ease and superior performance."

The Bell 412 is a multi-mission capable aircraft and the upgraded EPI offers an advanced flight deck and glass cockpit designed to improve pilot situational awareness and enhance safety. The aircraft can operate in a variety of mission sets including search and rescue, corporate transport, utility and military operations.

The Bell 412EPI is backed by Bell Helicopter's renowned in-service support, voted #1 by our customers 21 years running, and the company was recently voted best in the business in Vertical Magazine's Helicopter Manufacturers Survey.

About Bell Helicopter: Bell Helicopter, a wholly owned subsidiary of Textron Inc., is an industry-leading producer of commercial and military, manned and unmanned vertical-lift aircraft and the pioneer of the revolutionary tiltrotor aircraft. Globally recognized for world-class customer service, innovation and superior quality, Bell's global workforce serves customers flying Bell aircraft in more than 120 countries.
Bell 412EPi

Bell Helicopter India

Government of India