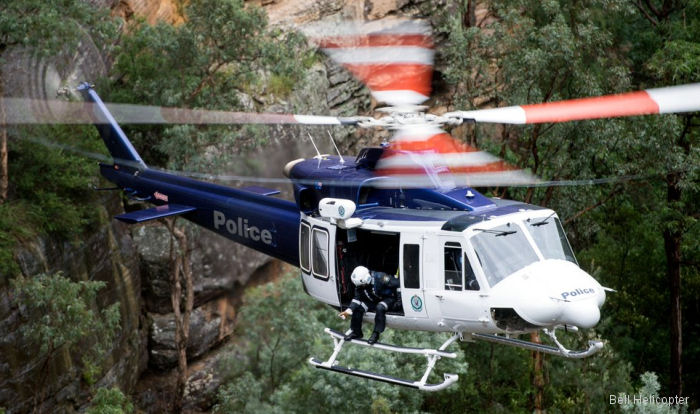 Bell Helicopter, December 15, 2016 - FORT WORTH, TEXAS – Bell Helicopter, a Textron Inc. company, announced the signed purchase agreement for a Bell 412EPI to the New South Wales Police Force.

Its new aircraft will be delivered in 2017 and will be used for search and rescue, transport and tactical missions.

The New South Wales Police Force is the primary law enforcement agency of the state of New South Wales, Australia, and is one of the oldest and largest law enforcement agencies in the world.

The agency received its first Bell 412EPI in 2014, which was the first Bell 412EPI for operation in Australia.

"The Bell 412EPI continues to play a vital role for mission critical helicopter operations around the world," said Sameer A. Rehman, Bell Helicopter's managing director of Asia Pacific. "We are very pleased that New South Wales Police have, once again, placed their trust in Bell Helicopter and in the Bell 412EPI to serve and protect the people of New South Wales."

The Bell 412EPI improves the Bell 412 platform with the Bell BasiX Pro™ fully integrated glass flight deck, providing critical flight information at a glance for greater situational awareness and safety. The Bell BasiX Pro™ system is specifically designed to meet the requirements of twin-engine helicopters and is optimized for IFR, Category A and JAR OPS3 compliant operations. The avionics suite also includes high resolution digital maps, electronic charts and approach plates, ADS-B transponder and optional HTAWS and XM satellite links. The Bell 412EPI also incorporates the power of Pratt and Whitney's PT6T-9 Twin Pac® engines, providing 15 percent more horsepower than the standard Bell 412.

Every Bell helicopter is backed by the largest support network in the industry with more than 100 Authorized Customer Service Facilities located around the world. Ranked number one by customers for 22 consecutive years in the Helicopter Product Support Survey from Professional Pilot Magazine, Bell Helicopter has also earned top honors in Vertical Magazine's first-ever comprehensive helicopter manufacturer's survey. Bell Helicopter is committed to having resources where customers operate to speed up delivery of service and support, and give customers access to service professionals that are easy to reach, know the operating environment and understand their needs.

About Bell Helicopter: Bell Helicopter, a wholly owned subsidiary of Textron Inc. (NYSE: TXT), is an industry-leading producer of commercial and military, manned and unmanned vertical-lift aircraft and the pioneer of the revolutionary tiltrotor aircraft. Globally recognized for world-class customer service, innovation and superior quality, Bell's global workforce serves customers flying Bell aircraft in more than 120 countries.

NSWPF

New South Wales Police
Australia Police
412EPi in

Australia Police