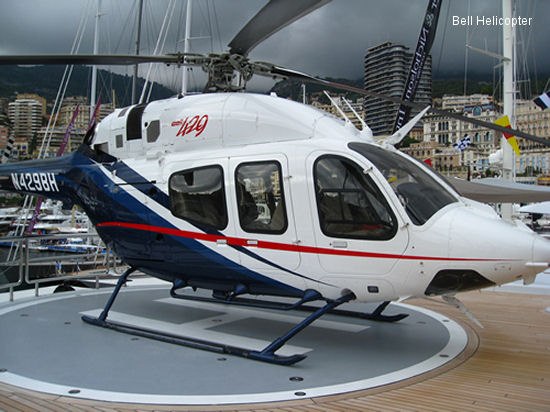 Bell Helicopter, September 26, 2013 - MONACO - Bell Helicopter, a Textron Inc. company, announced today its participation in the 23rd annual Monaco Yacht Show, held September 25-28.

Bell Helicopter will showcase a spacious and versatile Bell 429 in corporate configuration aboard the 247 ft. (75.4 m) superyacht, Northern Star, with exclusive access for attendees.

The Bell 429 continues to gain momentum across Europe in the corporate/VIP segment.

Bell Helicopter recently signed a purchase agreement with Heli-Alps for the first VIP-configured Bell 429 to be operated in Switzerland.

VIP customers like Heli-Alps cite the aircraft's comfortable, spacious cabin and impressive performance, including 278 km/h (150 knot) speed and more than 741 km (400 nm) range as reasons why the Bell 429 sets the standard for light twins.

"With excellent hover performance and a state-of-the-art glass cockpit, the Bell 429 can easily embark on yachts, providing owners the flexibility to transport guests rapidly from an airport directly to the yacht to spend more time afloat," said Patrick Moulay, Bell Helicopter's managing director in Europe. "With its spacious cabin and exceptional speed, the Bell 429 has been particularly successful among the VIP and yacht owner community. We see tremendous potential for more sales in this market segment."

The Monaco Yacht Show is one of the most important events for the captains of the yacht industry. The prestigious event will host 500 exhibitors representing innovative products and luxury services from a variety of sectors. The Monaco Yacht Show, held annually, had a record 33,000 visitors representing nearly 40 countries at the event in 2012 and numbers are expected to grow this year.

About Bell Helicopter: Bell Helicopter, a wholly owned subsidiary of Textron Inc., is an industry-leading producer of commercial and military, manned and unmanned vertical-lift aircraft and the pioneer of the revolutionary tiltrotor aircraft. Globally recognized for world-class customer service, innovation and superior quality, Bell's global workforce serves customers flying Bell aircraft in more than 120 countries.
Location :

Monaco Heliport
Bell 429