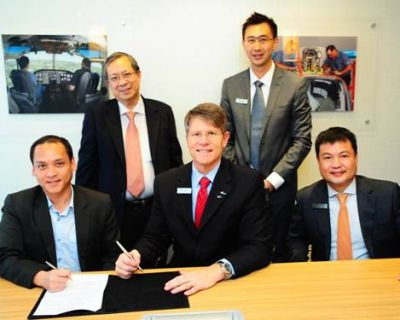 Bell Helicopter, February 12, 2014 - Singapore - Bell Helicopter, a Textron Inc. company, and Air Juan signed a purchase agreement Tuesday for a Bell 429 in a wheeled landing gear (WLG) configuration. This aircraft is the first WLG configuration to be sold into the Philippines.

Air Juan, which is based in the Philippines, will use the aircraft for corporate travel and to support its charter businesses which serve VIP, industrial, corporate travel and leisure markets.

"Air Juan currently operates a Bell 429," said Yael Ledesma, president, Air Juan. "The addition of second Bell 429 helps us meet our growing operations needs and offers us additional landing and takeoff capabilities."

Revealed at the National Business Aviation Association in October 2013, the Bell 429 WLG has all the capabilities of the Bell 429 with the added benefits of retractable wheeled landing gear. This feature allows for airport ground taxiing capability and closer access to fixed based operators and easier repositioning capability in space-limited operations.

"We are very pleased Air Juan continues to place their trust in Bell Helicopter by adding a Bell 429 WLG to their fleet," said CM Hwang, Bell Helicopter's regional sales director in Asia Pacific. "The WLG will be an ideal addition to their operations as it provides the speed, range and payload of their current Bell 429 but with the added features of the wheeled landing gear."

The Bell 429 is one of the most advanced light twin-engine helicopters developed offering a winning combination of speed, range and hover performance, and state-of-the-art single and dual pilot IFR. The aircraft offers exceptional flight performance, enhanced situational awareness and increased safety margins. It features a fully integrated glass flight deck with multi-function displays, dual digital autopilot and an integrated electronic data recorder. It is certified through Bell Helicopter's Maintenance Steering Group -3 (MSG-3) process which optimizes maintenance efficiency to result in maximum safety.

About Bell Helicopter: Bell Helicopter, a wholly owned subsidiary of Textron Inc., is an industry-leading producer of commercial and military, manned and unmanned vertical-lift aircraft and the pioneer of the revolutionary tiltrotor aircraft. Globally recognized for world-class customer service, innovation and superior quality, Bell's global workforce serves customers flying Bell aircraft in more than 120 countries.
429 in

Air Juan