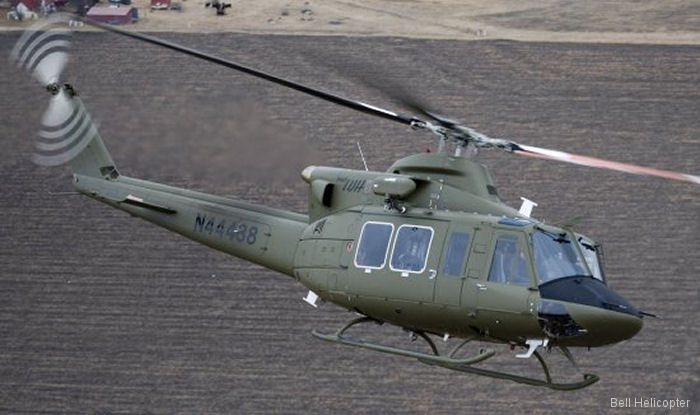 Bell Helicopter, January 23, 2006 - Fort Worth, TX - 2005 saw a number of catastrophic natural disasters that occurred on a global scale. From devastating earthquakes to category five hurricanes, Bell Helicopter's 700+ strong, worldwide fleet of 412 helicopters was there to answer the call for help all over the world resulting in tens of thousands of saved lives. Bell Helicopter, a Textron Inc. (NYSE: TXT) company, recently submitted their proven 412 helicopter to fulfill the US Army's requirement for a new Light Utility Helicopter, or LUH.

"In every corner of the Earth, day after day, the Bell 412 is proving its reliability and maintainability, operating in some of the most austere conditions imaginable," said Mike Redenbaugh, Chief Executive Officer of Bell Helicopter. "The Bell 412 and the teams who so professionally operate and maintain them are literally saving lives all over the world." The Bell 412s like the ones used during the Asian Tsunami, the earthquake in Pakistan, Hurricane Katrina as well as many domestic law-enforcement and first responder organizations, have logged more than 3.1 million flight hours.

On October 8, 2005, Pakistan experienced a massive earthquake registering a magnitude of 7.6 and killing more than 80,000 people. Within hours of the quake, the Pakistani Army's helicopter fleet, including Bell 412s, flew into action to respond to the disaster. Bell Pakistani Army 412s were used to reach remote mountain locations bringing food and supplies and returning with injured people.

"We received letters and testimonials from Pakistani Army Aviators telling us how much they appreciated the performance of their Bell 412s, especially during the ongoing earthquake relief operations in Northern Pakistan," Redenbaugh said.

In the 45 days following the earthquake, the 16 Pakistani Army 412s flew 4,580 missions, an average of 102 missions per day. They logged 2,743 hours and were credited with rescuing 54,960 people. The Pakistani Army 412s were supported by the nine-member Bell Team located in Pakistan. Disaster response and MEDEVAC are just two of the many missions the Army's new LUH will perform.

"We offered the 412 to be the Army's next LUH because it is performing the LUH mission today in more than 30 countries all over the world with a mission availability rate of more than 95%," Redenbaugh said. "Our soldiers deserve to have the best equipment with the best training and logistic support network available on the market today. The Bell 412, coupled with Bell's award-winning customer support and logistics networks, offer a proven, ready and able, low-risk solution for the Army's next LUH." "The tremendous performance of the Bell 412 in response to the Pakistani earthquake is just one more example of the proven performance and versatility of the Bell LUH," said Redenbaugh.

"We are extremely proud of the way these Bell 412s performed here in Pakistan following this devastating earthquake," said Willy Abril, Pakistani Program Manager for Bell Helicopter. "I saw them in action, I saw them bringing injured people to safety. I saw them operating in some of the most extreme terrain and conditions imaginable. It was a truly amazing effort by the Pakistani Army as well as our Bell Support Team and I was proud to be part of it."

Bell Helicopter is a leading producer of commercial and military helicopters and the pioneer of the revolutionary tilt rotor aircraft. Globally recognized for customer service, innovation and superior quality, Bell's global workforce serves customers flying Bell aircraft in over 120 countries.
Bell 412LUH