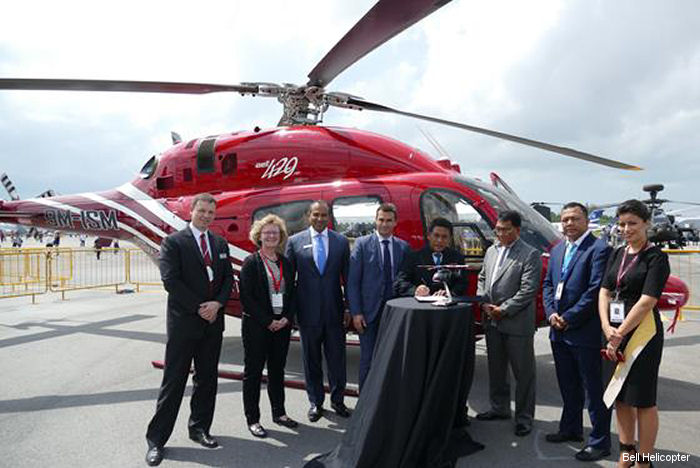 Bell Helicopter, February 18, 2016 - Sngapore - Bell Helicopter, a Textron Inc. company, signed a contract with PT. Carpediem Mandiri for the supply of two Bell 429s to the Flight Calibration Department of the Indonesian Ministry of Transportation.

The aircraft will be used for flight calibration operations throughout the region, performing instrument calibration for Helicopter Ground Instrument Landing and Departing Systems at airports, heliports and helipads.

Leadership from Bell Helicopter, Flight Calibration Indonesia, PT. Carpediem Mandiri and Aerodata AG signed the agreement at the Singapore Airshow.

"The Bell 429 will provide the Indonesian Flight Calibration Department with superior performance and safety, while operating throughout Indonesia," said Mr. Syafruddin Rachman, owner and president director of Carpediem Mandiri. "We have received the highest levels of support and service from Bell Helicopter, so we look forward to building our relationship with Bell Helicopter and the delivery of the two Bell 429s."

Established in 1992, PT. Carpediem Mandiri is an Indonesian private general trading company focused on vehicle rental services, but with support from local and international manufacturers, PT. Carpediem Mandiri seeks to further expand its business into the technology information, aviation, marine and meteorological sector.

Aerodata AG is a third party supplier that will support the aircraft by integrating their system into the Bell 429. Aerodata AG is a global market leader in flight inspection systems with its headquarters at the Research Airport in Braunschweig, Germany.

"We are delighted to introduce our flight calibration instrumentation on the Bell 429, as this will be the first Bell 429 operating with this technology," said Thorsten Heinke, Aerodata's program manager."

With seating for seven passengers and one pilot, the Bell 429 is one of the most advanced light twin helicopters ever developed, offering a fully integrated glass cockpit with advanced drive system and best-in-class SBAS/WAAS navigation and IFR capability. Additional safety features include a collective mounted throttle, damage tolerant hub and rotor system, and energy attenuating seats. It is the first helicopter certified through the MSG-3 process, resulting in reduced maintenance costs for operation.

"The Bell 429 delivers exceptional speed, range, hover performance and enhanced safety margins and continues to gain interest from customers around the world that operate in adverse weather conditions," said Sameer A. Rehman, managing director, Asia Pacific. "We are delighted to support the Indonesian Flight Calibration Department and look forward to delivering the Bell 429s to enhance their operations."

The Bell 429 is in service today with customers around the world including Europe, North America, Latin America, Middle East, and Asia Pacific – across all the market segments, corporate, energy, parapublic and helicopter emergency medical services.

About Bell Helicopter: Bell Helicopter, a wholly owned subsidiary of Textron Inc. (NYSE: TXT), is an industry-leading producer of commercial and military, manned and unmanned vertical-lift aircraft and the pioneer of the revolutionary tiltrotor aircraft. Globally recognized for world-class customer service, innovation and superior quality, Bell's global workforce serves customers flying Bell aircraft in more than 120 countries.
429 in

Carpediem Mandiri