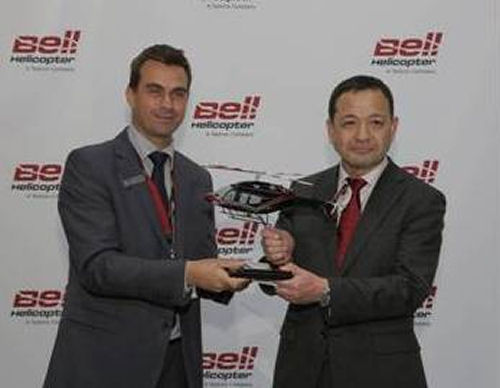 Bell Helicopter, March 08, 2017 - Dallas – Bell Helicopter, a Textron Inc. company, announced today the signing of a purchase agreement for two Bell 429s by Nakanihon Air Service Co., Ltd. (NNK).

The two new aircraft will be delivered later this year and will be used for Helicopter Emergency Medical Service (HEMS).

NNK purchased its first Bell Helicopter, a Bell 47G-2 in April 1960. Since then, they have purchased 77 Bell Helicopter aircraft. NNK currently owns and operates 13 Bell helicopters, including the 206, 430, 204, 412 and 429 models. In addition, NNK manages eight Bell 412EP and 412EPIs on behalf of the Ministry of Land, Infrastructure, Transport and Tourism and various Prefectures around Japan for Emergency Surveillance and Fire Fighting Disaster Recovery missions.

NNK has been an authorised Customer Service Facility since 1994 and customizes many of the Bell helicopters entering Japan.

"We are delighted that Nakanihon has purchased two additional Bell 429s, to bring its Bell fleet up to 15 aircraft" said Richard Thornley, Bell Helicopter's managing director, Japan. "It is remarkable that our loyal customer, Nakanihon have purchased their seventy-eighth and seventy-ninth Bell helicopters, over a period of nearly 60 years, emphasizing their trust in the Bell product and the support provided by Bell in Japan. Since Nakanihon currently operates a 429 in the HEMS role, it is a huge endorsement for the Bell 429, and its exceptional performance, speed, and low vibration that they have decided to purchase two more for this life-saving mission."

The state-of-the-art technology in the Bell 429 includes a fully integrated glass cockpit, advanced drive system, best-in-class Satellite-Based Augmentation System (SBAS) navigation and IFR capability. The Bell 429 has more cabin space than any other light twin helicopter, with flat flooring, seating for five passengers and one flight crew as well as a stretcher patient. When time is of the essence, the Bell 429's 157cm-wide side doors and rear clam-shell doors provide quick and easy access.

Bell Helicopter Co., Ltd. was established in Japan in January 2014 for the primary purpose of building upon long-term customer and partner relationships. Bell Helicopter's office in Tokyo serves as a hub for sales, marketing, and aftermarket service efforts. Customers in Japan are also supported by authorized Customer Service Facilities, Nakanihon Air Service Co., Ltd, Fuji Heavy Industries, and Aero Asahi. Bell Helicopter is committed to having resources where customers operate to speed up delivery of service and support, and give customers access to service professionals that are easy to reach, know the operating environment and understand their needs.

About Bell Helicopter: Bell Helicopter, a wholly owned subsidiary of Textron Inc.(NYSE: TXT), is an industry-leading producer of commercial and military, manned and unmanned vertical-lift aircraft and the pioneer of the revolutionary tiltrotor aircraft. Globally recognized for world-class customer service, innovation and superior quality, Bell's global workforce serves customers flying Bell aircraft in more than 120 countries.
429 in

Nakanihon Air Service

Bell Helicopter Japan