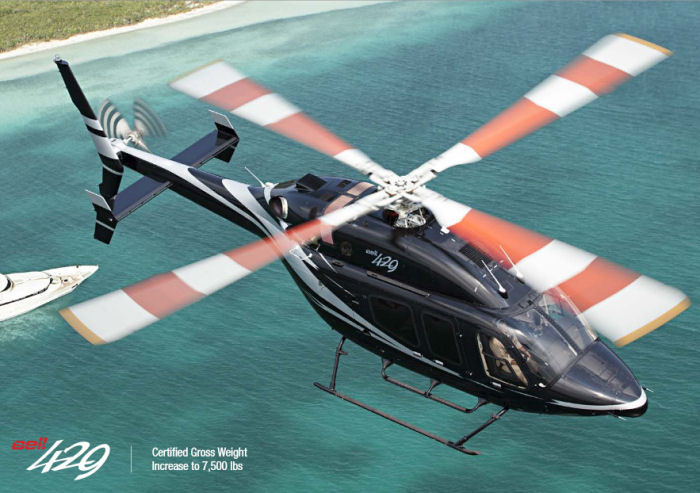 Bell Helicopter, January 31, 2014
- FORT WORTH, TEXAS – Bell Helicopter, a Textron Inc. company, announced today a signed agreement with the
New York Police Department
for four Bell 429 helicopters.
The aircraft will be used for airborne law enforcement patrol, serving the citizens of New York City and surrounding jurisdictions.
The NYPD currently has three Bell 412EPs in service for a variety of missions ranging from search and rescue at sea to gathering intelligence and combating terrorism.
Delivery of the NYPD's new Bell 429s is anticipated to be complete in 2015.
"We are honored to count the NYPD among our law enforcement customers and we give our sincere thanks for their ongoing trust in Bell helicopters," said Danny Maldonado, Bell Helicopter's executive vice president of Sales and Marketing. "We take great pride in continuing to provide New York's finest with the reliable aircraft their missions demand so they can serve and protect their community."
Bell Helicopter has been a part of the NYPD since 1948 when it delivered a Bell 47, the first Bell helicopter to be used as part of an airborne law enforcement team. Since then, Bell Helicopter has strived to provide innovative product solutions and the best customer support and service to maintain its valued, long-standing relationship with the NYPD.
The Bell 429 delivers exceptional speed, range, hover performance and enhanced safety margins with a fully-integrated glass cockpit, advanced drive system and best-in-class WAAS navigation and IFR capability. The Bell 429 has more cabin space than any other light twin helicopter, with flat flooring and seating for seven passengers and one flight crew. Wide 60 inch side doors and optional rear clam-shell doors provide quick and easy access for flight officers when every second counts.
429 in

State of New York