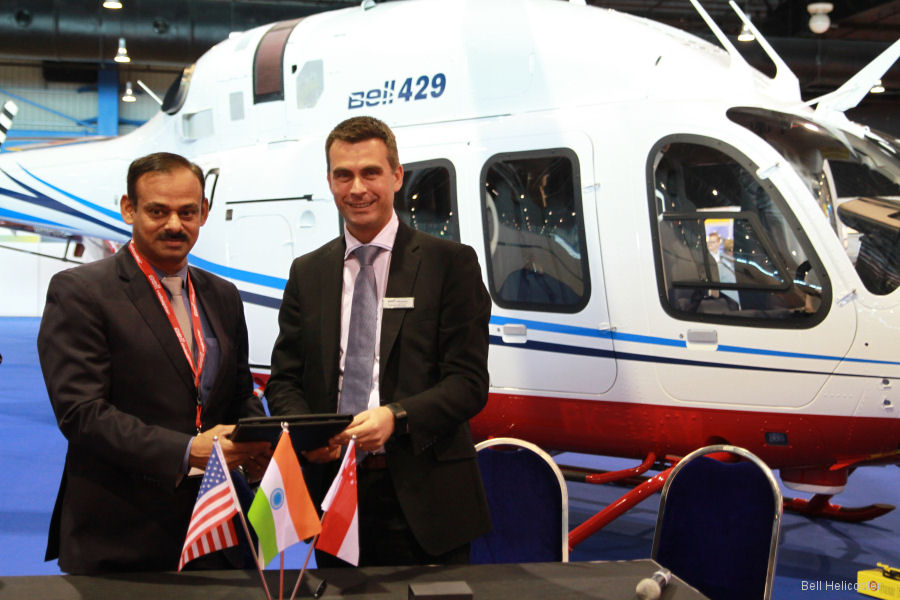 Bell Helicopter, April 19, 2017 - Singapore – Bell Helicopter, a Textron Inc. company, announced Tata Steel Group has purchased a second Bell 429 helicopter to support their steel production operations.

"Bell Helicopter rotorcraft are relied upon to help our customers in India conduct business, day in and day out, in an efficient and time-effective manner that is simply impossible with any other form of transportation," said Sameer A. Rehman, Bell Helicopter managing director for Asia Pacific. "The fleet of Bell Helicopter aircraft in India continues to grow as more and more customers come to depend on our performance and see the value in the flexibility provided by rotorcraft flight."

The state-of-the-art technology in the Bell 429 includes a fully integrated glass cockpit, advanced drive system, best-in-class WAAS navigation and IFR capability. The Bell 429 has more cabin space than any other light twin helicopter, with flat flooring and seating for seven passengers and one flight crew.

"We see the potential for an ever-increasing demand for Bell Helicopter products in India, a country boasting one of the world's fastest-growing economies with an expanding industrial footprint," added Rehman.

Known for its industry-leading support and service, Bell Helicopter has been supplying helicopters to customers in India for more than six decades. The iconic Bell 47 first visited India in 1953 and flew Sir Edmund Hillary and Tenzing Norgay around the country. Today, there are more than 90 Bell aircraft operating throughout India in several sectors including commercial, civil/government, and military operations.

Bell Helicopter opened a liaison office in India in 1995, and since that time has been providing customer support to operators in the region with dedicated Customer Service Engineers and its authorized Customer Service Facility. In 2004, Textron Inc. opened an engineering and technology center in Bangalore that employs more than 130 Bell Helicopter engineers working various programs. Bell Helicopter also has a sales office in New Delhi.

About Bell Helicopter: Bell Helicopter, a wholly owned subsidiary of Textron Inc. (NYSE: TXT), is an industry-leading producer of commercial and military, manned and unmanned vertical-lift aircraft and the pioneer of the revolutionary tiltrotor aircraft. Globally recognized for world-class customer service, innovation and superior quality, Bell's global workforce serves customers flying Bell aircraft in more than 120 countries.

Tata
Bell 429