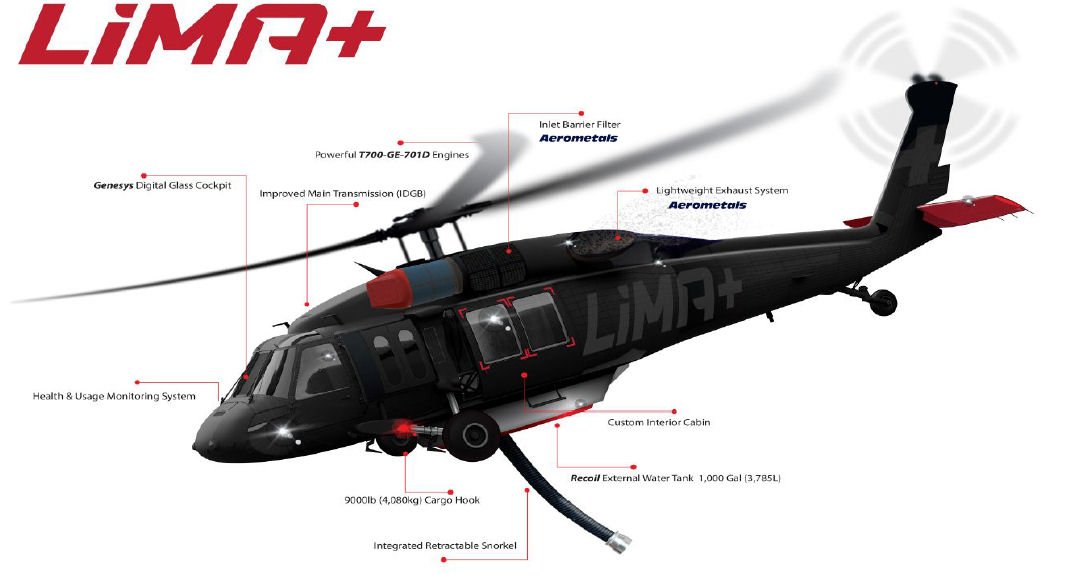 Black Widow, November 20, 2023
- The Lima+ is built on the proven effectiveness, reliability, and safety of the Sikorsky UH-60 Black Hawk, making it the perfect platform for multi-mission responsibilities.
The Lima+, a joint venture between Black Widow Helicopters and XP Services, is the ultimate solution for utility and public safety operators looking for reliable performance, safety and next generation equipment.
Equipped with the latest technologies and top-of-the-line equipment, the Lima+ offers unparalleled mission readiness. It effortlessly maneuvers with agility and safety in canyons and varied terrains, from sea level to an impressive altitude of 10,000 feet.
Its precision and force when dropping water is unmatched, making it ideal for firefighting and search and rescue operations.
Lima+ Black Hawk specifications

The Lima+ comes with a range of standard mission equipment, including:

- Aerometals Inlet Barrier Filter Kit
- Aerometals Lightweight Exhaust Upgrade
- GPMS Foresight HUMS
- IFR Certified Genesys Glass Cockpit with 4 Axis autopilot
- 9000lbs Cargo Hook
- 1000 Gallon External Water Tank

What's more, the Lima+ offers competitive pricing without compromising on quality.

Commercial operators and public safety agencies now have an even stronger reason to choose the legendary Black Hawk for their various mission deployments.

Don't miss out on the opportunity to experience the unmatched capabilities of the Lima+.

Black Widow Helicopters
State of California

XP Services Inc
State of Tennessee
Black Hawk in

US Army Aviation