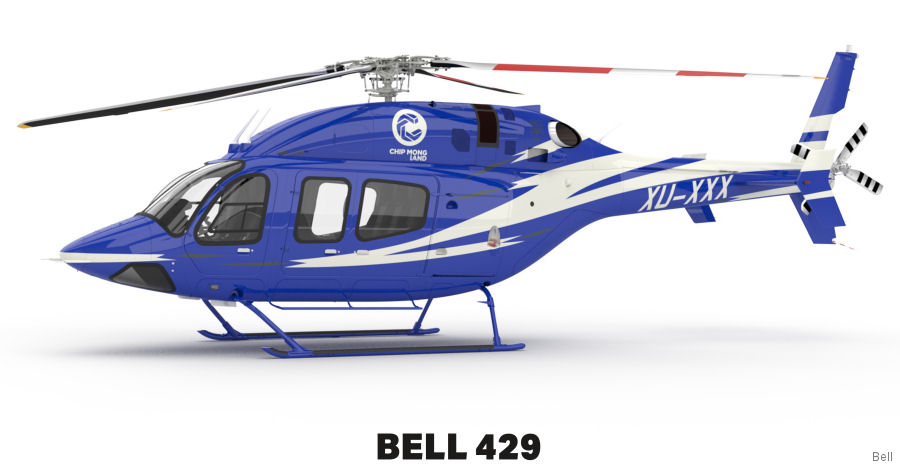 Bell, March 29, 2021 - Bell Textron Inc., a Textron Inc. (NYSE:TXT) company, announced the sale of one Bell 429 helicopter to Cambodia's Chip Mong Group Co., Ltd. It is the first Bell 429 sale in Cambodia.

Chip Mong, a leading real estate, hospitality, beverages, retail and banking conglomerate, intends to use the Bell 429 for corporate transport and chartering purposes.

"Our acquisition of the state-of-the-art Bell 429 demonstrates Chip Mong's confidence in the Bell aircraft to serve our growing businesses. This Bell 429 combined with the other two Bell 505s in our fleet will allow us to serve our customers in the hospitality and real estate industry. It will also substantially contribute to Cambodia's economic growth in line with the development efforts and guidance of the Cambodian government," said Neak Oknha LEANG Meng, group president for Chip Mong.

"We are honored that the Chip Mong has selected the Bell 429 as their light twin helicopter of choice. The Bell 429's smooth and peaceful ride makes it perfect for executive business travel and relaxation, with ample storage and space for six people," said David Sale, managing director for Bell Asia Pacific. "Its remarkable flight performance coupled with its multi-mission pedigree make it best suited to the Chip Mong Group's aim of providing exceptional quality."

With over 400 Bell 429s around the globe, the aircraft has been one of the most successful light twin helicopters on the market since its certification in 2009. The Bell 429 is known for its exceptional speed, performance, range, and low lifecycle cost. The aircraft's readiness makes it ideal for a variety of missions such as law enforcement, para-public, oil and gas, and corporate transport.
Bell 429

Cambodia