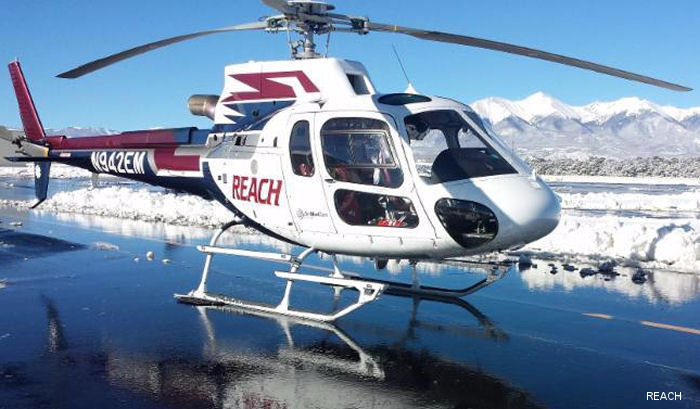 Airbus Helicopters, March 08, 2017 - GRAND PRAIRIE, Texas – REACH Air Medical Services, a subsidiary of Air Medical Group Holdings, has placed an order for five new Airbus H125s, marking the first time the company has turned to an Airbus Helicopters aircraft for its single-engine platform solution.

The company selected the H125 after requesting a high-altitude demonstration and "fly-off" of the Airbus H125 and H130 models, and the Bell 407 in Colorado in summer 2016. Both the H125 and H130 exceeded flight envelope expectations, with the H125 emerging as the best performer followed closely by the H130.

Two H125s are scheduled for delivery to REACH in June, with the other three to be delivered in the third quarter. The new aircraft will primarily serve mountain communities in the western United States. Airbus Helicopters Inc. will install the air medical equipment packages.

Vicky Spediacci, Vice President of Aviation Operations for REACH, said the company chose the H125 for its high-reliability rates and high-altitude performance capabilities. Although this is the company's first time to place an order for the H125, it has long operated the twin-engine Airbus H135.

"The fly-off proved our intuition was correct. The H125 outperformed all of the similar aircraft in hot and high conditions, and it was a clear choice," Spediacci said. "We look forward to our continued partnership with Airbus Helicopters Inc."

"It is deeply gratifying that an outstanding air medical transport service like REACH has ordered the H125 that we build here in the United States," said Chris Emerson, President of Airbus Helicopters Inc. "This is an endorsement of not only the H125 but the entire Airbus team that produces and supports this fine, industry-leading helicopter."

Headquartered in Santa Rosa, California, REACH provides air medical transportation for critically ill and injured patients from more than 30 bases in California, Oregon, Nevada, Montana, Wyoming, Colorado and Texas. REACH is one of three operating subsidiaries of Lewisville, Texas-based Air Medical Group Holdings.

Airbus Helicopters Inc. produces the H125 at its plant in Columbus, Miss. with a workforce that is comprised largely of U.S. military veterans. The H125 is the top-selling high-performance single-engine helicopter in North America.

The H125 has superior hot temperature and high altitude performance, a spacious cabin and modern safety features, including energy-attenuating seats. It is equipped with a dual-channel FADEC and Engine Data Recorder which, along with dual hydraulics, enhance safety and systems management.

Several industry-leading Airbus helicopter models are on exhibit at Heli-Expo 2017, March 7-9 at the Kay Bailey Hutchinson Convention Center in Dallas, Booth #7648. The exhibit contains a virtual reality experience demonstrating the cutting edge technology of the H160 helicopter now under development. Airbus Helicopters Inc. subject matter experts are available to discuss support and services offerings, including the HCare maintenance and spares support programs, and the Keycopter online portal.

Airbus Helicopters Inc., based in Grand Prairie, Texas is an affiliate of Airbus Helicopters and Airbus.

About Airbus: Airbus is a global leader in aeronautics, space and related services. In 2016, it generated revenues of € 67 billion and employed a workforce of around 134,000. Airbus offers the most comprehensive range of passenger airliners from 100 to more than 600 seats. Airbus is also a leader in tanker, combat, transport and mission aircraft, as well as Europe's number one space enterprise and the world's second largest space business. In helicopters, Airbus provides the most efficient civil and military rotorcraft solutions worldwide.

REACH Air Medical
State of California
Airbus H125
H125/H130 in

Airbus Helicopters Inc