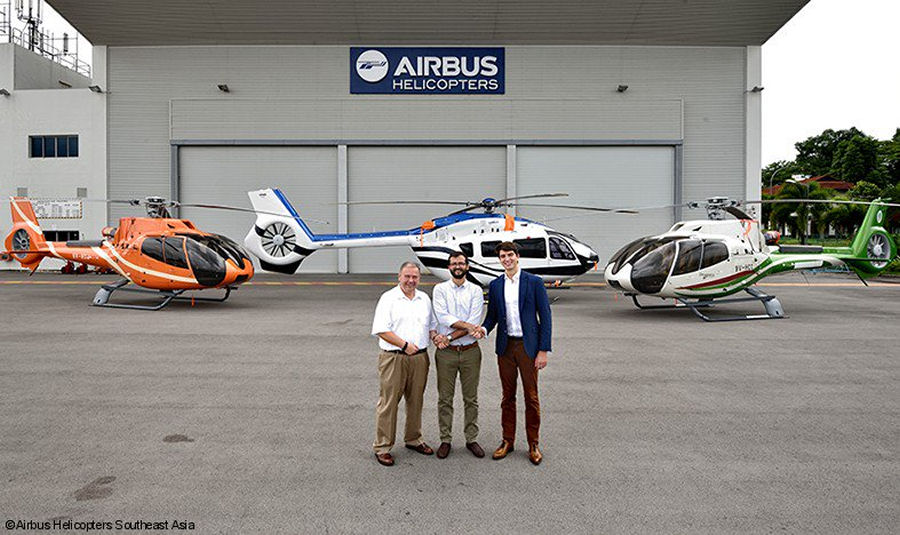 Airbus Helicopters, December 12, 2017 - Manila – Airbus Helicopters celebrated the on-schedule delivery of four new helicopters to its Philippine customers, through its regional delivery and completion centre in Singapore recently.

Three helicopters will join PhilJets' growing fleet, including the first H145 for the leading boutique business aviation operator, while a new H155 will be operated by a healthcare provider.

Together with the two H130 helicopters delivered earlier in the year, Airbus has delivered a total of six helicopters in the Philippines in 2017.

These helicopters – three H130s, two H145s and one H155 – will be used for passenger and corporate transportation, bolstering the civil transportation market segment in the country.

With these deliveries, Airbus continues to lead the Philippine civil helicopter market with over 60% of the market share.

"The successful on-time deliveries is the result of the strong ecosystem we have built in the Philippines and the seamless support by the regional teams," said Lionel de Maupeou, Managing Director of Airbus Helicopter Philippines.

"With a well-established presence in Philippines, we will continue to serve the growing needs of our customers as they expand their operations."

About Airbus: Airbus is a global leader in aeronautics, space and related services. In 2016, it generated revenues of €67 billion and employed a workforce of around 134,000. Airbus offers the most comprehensive range of passenger airliners from 100 to more than 600 seats and business aviation products. Airbus is also a European leader providing tanker, combat, transport and mission aircraft, as well as one of the world's leading space companies. In helicopters, Airbus provides the most efficient civil and military rotorcraft solutions worldwide.
H145 / EC145T2 in

PhilJets
Airbus Helicopters Southeast Asia