HELIMOD Mark III Virtual Reality Helicopter Simulator Device


Ryan Aerospace (Australia) presents new HELIMOD Mark III virtual reality helicopter simulator device

Ryan Aerospace, August 15, 2018 - Ryan Aerospace (Australia) is pleased to taking part in World Helicopter Day hosted by Aeropower this Sunday (19 August) at Redcliffe Airport in Brisbane, Australia.

The HELIMOD Mark III was designed to teach real helicopter pilots the art of longlining / vertical reference / slung loads and hover training.

The units utilise virtual reality as the visual platform making them cost-effective and fully immersive, providing the aspirants a unique helicopter flying experience.

Also in attendance will be the Australian Defence Force, Unique Proposals, Queensland Raceways, AOPA flight simulator bus, Coast Guard, kids facepainting, careers presentations, book signing and Air Force Cadets.

Helicopter joyflights will be running on the day for those people wishing to make the most of the opportunity and see Redcliffe from the air.

The day aims to raise awareness of the contributions that helicopters make to our society and celebrate the diverse range of people that design, fly and support them.

Around the world every day there are people relying on helicopters for rescues, disaster relief, transport, firefighting, medical transfers, powerline maintenance, tourism, agriculture and many more roles.

The Virtual Reality (VR) head-mounted display puts you directly in the pilot's seat of virtually any aircraft* (left OR right seat). There is a full sense of immersion brought about by the 3D, stereoscopic nature of the VR goggles. The pilot has the ability to "look around" the aircraft and more importantly, can lean out the side and look directly underneath the helicopter (such as looking down at your slung load). This is perfect for teaching the basics of vertical reference.

KEY FEATURES AND BENEFITS

- Full immersion in the cockpit with the ability to look around (including directly down for vertical reference / long lining operations)
- Modular and reconfigurable (aircraft-specific modules and controls can easily be added / interchanged) including main instrument panels, avionics suites, GPS etc.
- USB "Plug and Play". Can be used with a variety of software platforms dependent on the training requirement
- Cyclic has force trim function with stick shaker option available
- Pedals have high quality hydraulic dampening
- Collective has high quality hydraulic dampening and friction control
- Robust and deployable. Main frame has durable Rhino Coating with recessed, rugged handles for easy movement. Internal parts over-engineered to withstand the harshest of operating environments
- Retractable wheel system for easy movement available as an option
- Small footprint. Can fit in a small office, trailer or shipping container and is entirely portable
- Package deals with PC, configured software and virtual reality headset available
- Motion platform available
- Adjustable seat
- Can also be used with LCD screens or projectors for the out-the-window visuals instead of / as well as the virtual reality headset
- Scalable
- Cost-effective / affordable
- Excellent backup and support
- Shipping worldwide

The HELIMOD Mark III is software agnostic and can be configured with a variety of software packages depending on the training requirement including: VBS3, X-Plane 11, DCS, Prepar3D, Titan
Presagis products such as HeliSim, Vega Prime, STAGE etc. and Arma.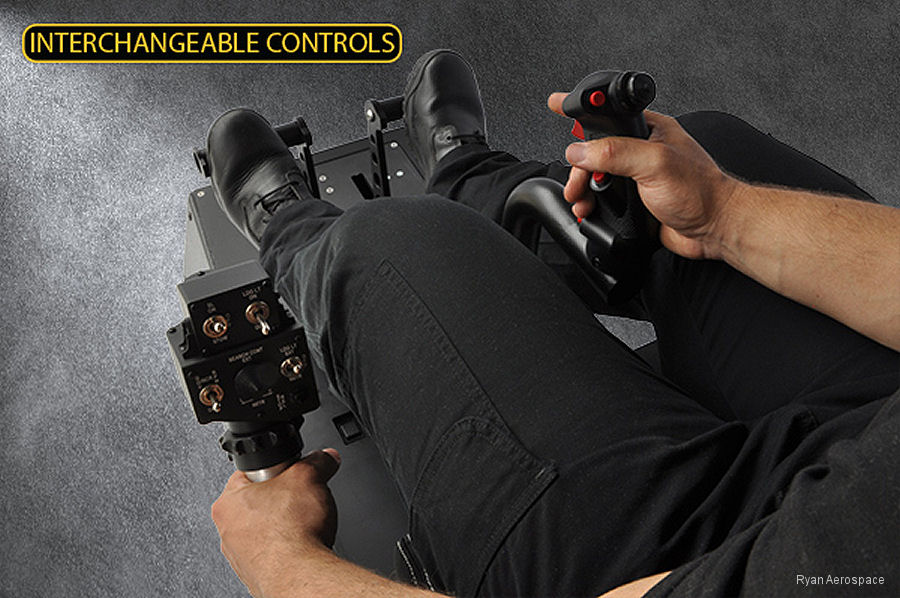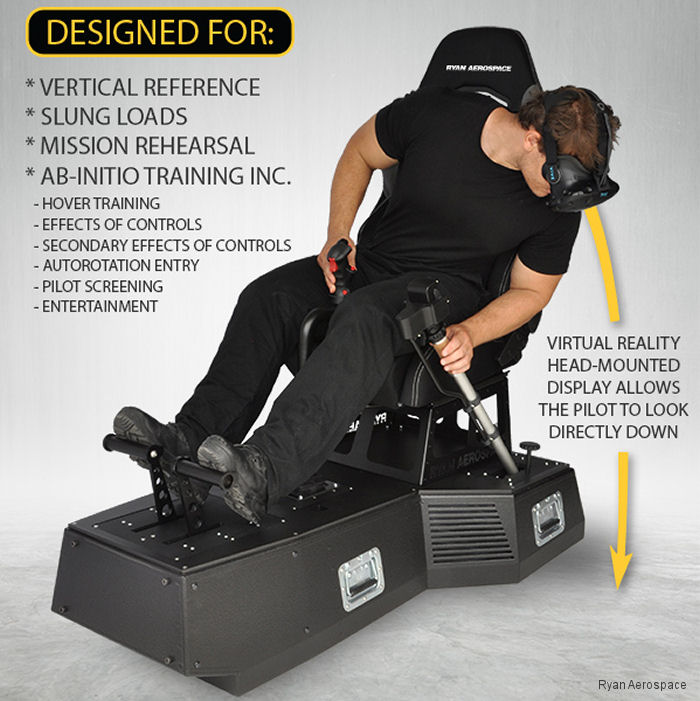 This article is listed in :


Ryan Aerospace
--Helicopters Flight School - Training Civilian

Redcliffe
What links here :
Royal Australian Navy New Helicopter Simulator
Ryan Aerospace Simulators for US Army