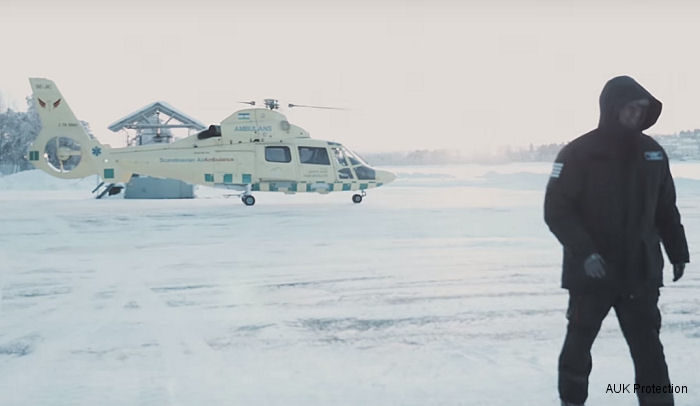 AUK Protection, March 22, 2016 - Working in close vicinity to a spinning rotor in arctic conditions is a very demanding situation faced daily by aircrews in northern climes.

In the gale force gust produced by the rotor blades, hurling ice and snow particles at up to 185 km/h in your face, effective temperature often drop well below -30°C.

Once inside cockpit, pilots and crew usually have to get right down to the delicate business of safely transporting expensive equipment, emergency patients or whatever the task might be. In northern Scandinavia, where helicopter infrastructure is in growing demand by civil services such as regional hospitals, defining the right type of personal protective equipment for aircrews is a growing concern.

AUK Protection, a recently established firm based in Jämtland, Sweden, have teamed up with leading designers and researchers to adress common safety and health problems experienced by helicopter crews. Following the successful launch of the ergonomic G1 Flight Suit, the brand has now added the highly specialized G2 Winter Flight Suit and the J2 Base Parka to their garment line.

These new garments are specially intended for air ambulance (HEMS), alpine rescue, heavy transport and other common helicopter applications in arctic/alpine regions.

G2 WINTER FLIGHT SUIT

The G2 Winter Flight Suit was developed in close collaboration with aircrews in Greenland and northern Norway. The mission was to come up with a concept that would be blizzard proof, yet flush enough to avoid the stiffness that tend to obscure vision and obstruct arm/wrist movements. The end result is a perfect combination of ultra thin insulating layers inspired by top shelf alpine wear. Snow-gaiters and ultra comfortable cuffs keeps the good stuff in and the bad stuff out. Ergonomic kneepads included.

J2 BASE PARKA

Inspired by top shelf arctic exploration gear, the J2 Base Parka is a very thoroughly designed garment indeed. Intended to provide maximum protection while working in close proximity to helicopters in arctic/alpine conditions, it features exactly what you need to stay snug around rotors in full swing. For heat retention, it features triple insulating layers laced with breathable, moist wicking membrane fabric.

AUK Protection is a pilot owned and operated initiative to further the standard of protective equipment for helicopter professionals. All products are developed in close collaboration with active aircrews, following a strict protocol of User Centered Design (UCD), premium hi-tech materials and scientific research.
Helicopters Outfit Gear

AUK Protection