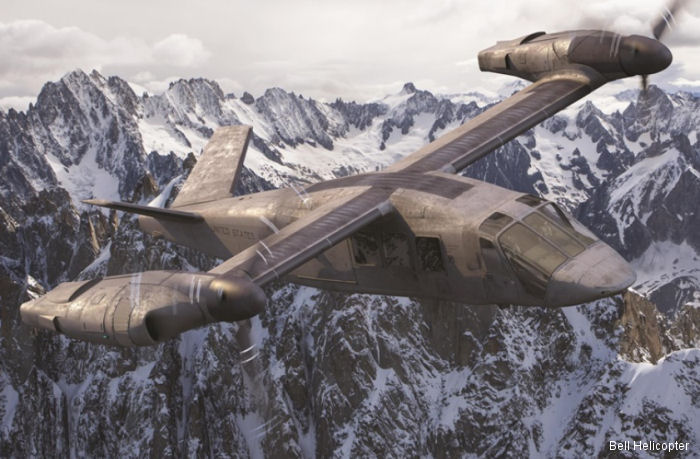 Bell Helicopter, February 22, 2016
- Fort Worth, Texas – Bell Helicopter, a Textron Inc. company, announces its show plans for the world's largest helicopter trade show and exposition, HELI-EXPO 2016.
Hosted by the Helicopter Association International (HAI), this year's show will be held at the Kentucky Exposition Center in Louisville, Kentucky.
While engaging with current and prospective customers, Bell Helicopter plans to showcase nearly all of its commercial product line while also highlighting the advanced technology of its next generation tiltrotor aircraft.
Bell Helicopter invites attendees to its opening event in booth 317 on Tuesday, March 1 at 11:30 a.m. Within the booth, attendees will have the opportunity to learn more about the company's integrated global support and service offerings as well as get an up close look at Bell Helicopter's most advanced product line, including:
-
Bell 525 Relentless
flight test vehicle #2
-
Bell 505
Jet Ranger X flight test vehicle #3
-
Bell 429
owned by Three Forks Ranch
-
Bell 407GXP
owned by Air Methods
-
Bell V-280 Valor
mock-up
-
Bell 412EPI
in a utility configuration (Static Display Area)
-
Bell 407GX
in a corporate configuration (Static Display Area)
Additionally, Bell Helicopter will provide customer demonstration flights in the Bell 429 and the Bell 407GXP.
"Heli-Expo is undoubtedly one of our most important events of the year," said Mitch Snyder, Bell Helicopter's president and CEO. "As the largest helicopter trade show and exposition in the world, it is an invaluable opportunity for us to hear from our customers and suppliers. It is this input that guides us in continuing to develop next generation technology to provide for our customers."
Heli-Expo will host about 20,000 industry professionals, with approximately 700 competitive exhibitors and over 60 helicopters on display. There will be more than 100 educational opportunities, including education courses, seminars, workshops and forums
"Bell Helicopter has stayed true to its legacy in introducing industry-changing technologies," said Snyder. "Our focus is always to provide our customer the best product available by listening to their needs and being ahead of the innovation curve with implementations like the first fly-by-wire commercial helicopter —the Bell 525."
About Bell Helicopter: Bell Helicopter, a wholly owned subsidiary of Textron Inc. (NYSE: TXT), is an industry-leading producer of commercial and military, manned and unmanned vertical-lift aircraft and the pioneer of the revolutionary tiltrotor aircraft. Globally recognized for world-class customer service, innovation and superior quality, Bell's global workforce serves customers flying Bell aircraft in more than 120 countries.
Location :


Kentucky Exposition Center

Bell Helicopter