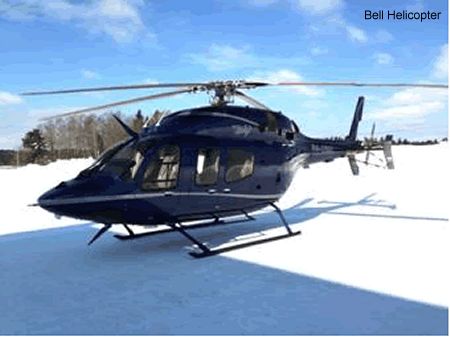 Bell Helicopter, May 16, 2013 - Fort Worth, TX - Bell Helicopter, a Textron Inc. company, continues to expand its presence in Russia through recent aircraft deliveries, the appointment of a second Independent Representative and through participation at the 6th annual HeliRussia exhibition.

"Russia is a very important market for Bell Helicopter; their demand for new rotorcraft is increasing and we are ready to provide them with the products they need to successfully perform their missions. We continue to see excellent growth opportunities in both the corporate/VIP and HEMS segments in particular," said Patrick Moulay, Bell Helicopter's managing director in Europe.

In recent weeks, Bell Helicopter has delivered eight aircraft into Russia, five of which were Bell 429 helicopters. The company anticipates the upcoming delivery of the first two Bell 429s configured for HEMS in Russia to Saint-Petersburg and the first Bell 407GX to be operated in Russia.

"As we equip our Russian customers with the rugged and reliable helicopters they require, we are also ramping up our customer support and services offerings to keep their aircraft flying in top condition. Our authorized service facility, Kazan Aviation Enterprise, provides a full range of services to all Bell models operated in Russia as well as two Independent Representatives," said Sergey Filatov, regional manager, Bell Helicopter Russia.

HeliDrive was recently appointed as a Bell Helicopter Independent Representative to serve customers in the Northwest district of Russia. Bell Helicopter's Independent Representative in Moscow, Jet Transfer, continues to provide excellent service to operators in the region.

In collaboration with Jet Transfer, Bell Helicopter showcased the Bell 429 in corporate configuration in its booth at HeliRussia 2013. The Bell 429 is the newest light twin helicopter on the market, delivering exceptional speed, range and hover performance. The aircraft is multi-mission ready with a spacious cabin and quick change interior. The Bell 429 has received accolades from customers in the corporate/VIP transport industry in Russia and future deliveries are scheduled with helicopter emergency medical services (HEMS) operators as well.

Bell Helicopter has been ranked #1 in product support for 19 consecutive years by the readers of Professional Pilot magazine and seven years in a row by Aviation International News. More than 100 authorized Customer Service Facilities located in 35 countries provide industry-leading support to Bell helicopter operators in their respective regions.

About Bell Helicopter: Bell Helicopter, a wholly owned subsidiary of Textron Inc., is an industry-leading producer of commercial and military, manned and unmanned vertical-lift aircraft and the pioneer of the revolutionary tiltrotor aircraft. Globally recognized for world-class customer service, innovation and superior quality, Bell's global workforce serves customers flying Bell aircraft in more than 120 countries.
429 in

HeliDrive