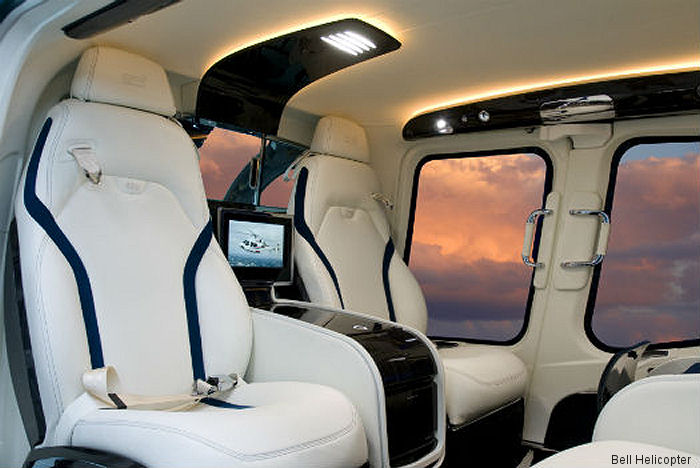 Bell Helicopter, February 28, 2017
- Fort Worth, TX – Bell Helicopter, a Textron Inc. company, announces its show plans for the world's largest helicopter trade show and exposition, HELI-EXPO 2017.
The annual trade show, hosted by the Helicopter Association International (HAI), will be held at the Kay Bailey Hutchison Convention Center in Dallas, Texas.
Be sure to follow along the week of activities at Bell Helicopter's Heli-Expo event page.
"Bell Helicopter looks forward to this event every year, and we could not be more proud to showcase our advanced products and technology that will drive the future of rotorcraft," said Patrick Moulay, Bell Helicopter's executive vice president of Global Sales and Marketing. "Bell Helicopter has a renewed focus on technology and innovation and that will be echoed throughout the week."
Bell Helicopter will host its opening ceremony in Booth 11249 on Tuesday, March 7 at 11:00 a.m., and attendees will not want to miss this exciting event. Within the booth, current and prospective customers will be fully immersed in the innovation that is driving Bell Helicopter into the future.
Attendees will get an up close look at Bell Helicopter's advanced product line, including the:
-
Bell 525 Relentless
VVIP
MAGnificent
-
Bell 505 Jet Ranger X
-
Bell 429
-
Bell 407GXP
Bell Helicopter will present next-level technology, including an immersive virtual reality experience of the Bell V-280 Valor that will highlight mission capabilities of the aircraft. Additionally, customers will have an opportunity to customize their own demonstration flight in the virtual reality experience for the Bell 525, 429, 407 and 505.
Heli-Expo will host about 20,000 industry professionals, with approximately 700 competitive exhibitors and more than 60 helicopters on display. There will be more than 100 educational opportunities, including education courses, seminars, workshops and forums.
About Bell Helicopter: Bell Helicopter, a wholly owned subsidiary of Textron Inc. (NYSE: TXT), is an industry-leading producer of commercial and military, manned and unmanned vertical-lift aircraft and the pioneer of the revolutionary tiltrotor aircraft. Globally recognized for world-class customer service, innovation and superior quality, Bell's global workforce serves customers flying Bell aircraft in more than 120 countries.
Location :

Richard Arthur Field

Bell Helicopter