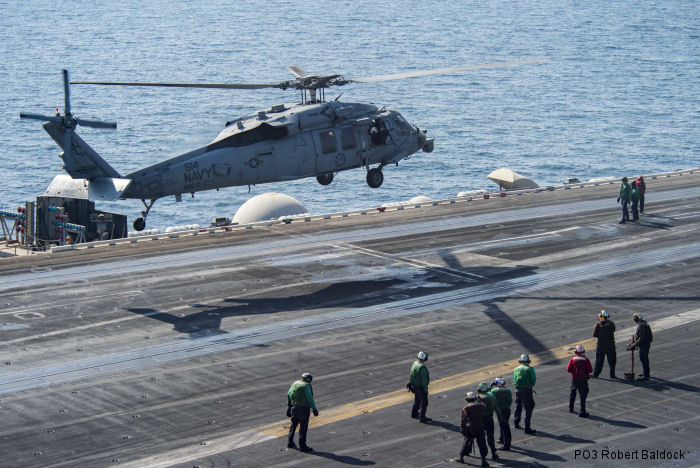 US Navy, November 07, 2016 - U.S. FIFTH FLEET AREA OF OPERATIONS by PO3 Cole Keller, USS Dwight D. Eisenhower (CVN 69) - A group of pilots, maintainers and aircrewmen assigned to the "Dusty Dogs" of Helicopter Sea Combat Squadron (HSC) 7 conducted specialized combat search and rescue (SAR) and special operations support training in the Fiftth Fleet area of operations, Oct. 16-20.

Fifth Fleet served as an opportune place for pilots of HSC-7 to conduct training in degraded visual environments (DVE).

"We don't get an opportunity to land in conditions like these while being based out of Norfolk," said Lt. Patrick Dunn, HSC-7's tactics officer. "The sand is a lot finer here and blows up a lot more. It was an awesome experience and I think we all feel a lot more comfortable with these circumstances now."

Joining every pilot is a team of experienced maintainers who keep the helicopters ready to perform in the most extreme conditions and are indispensable to mission success.

"Our maintainers were incredible," Dunn said. "We had some aircraft issues while we were out there and our guys pulled together and fixed the birds in no time. They worked so incredibly hard in limited number. It was inspiring to see."

Along with the maintainers, the aircrewmen in the aircraft were able to qualify and maintain currency of night landing and landing the aircraft in desert conditions.

"Our main job while flying is to keep the aircraft safe," said Chief Petty Officer Jay Okonek, HSC-7's training leading chief petty officer. "When the pilots come in, at about 60 feet they lose sight of the landing zone. In situations like these, we are their eyes. Fifth Fleet offers the added difficulty of landing in brown-out conditions."

In one training scenario, a team was inserted into an urban training complex and called on the aircrewmen to provide air cover.

"This is by far one of the most fun and crew-intensive trainings we can do," Okonek said. "The whole crew has to be in it together or else it's not going to work. If you don't have the pilots, gunners and crew chief all doing their part, the mission won't succeed."

In addition to being more comfortable with the conditions of the area of responsibility, the squadron worked closely with the Air Force's 82nd Expeditionary Airfield Special Operations Support team in the event they need to support special operations forces on the ground.

"We are always the air wing's combat search and rescue asset," Dunn said. "In a worst-case scenario where someone was shot down, we maintain the capability to go in and retrieve them safely. We train heavily for missions over the water, but this training allowed us to practice for the over land side as well."

For all hands involved, this training offered an opportunity that could not be found over water. It reassured the crew and the pilots they were prepared for the worst of scenarios.

"It's a confidence builder for everyone to work in this kind of environment," Okonek said. "It puts us to the test and lets us know that we can go anywhere and do what we need to do, no matter what the conditions are."

HSC-7 is attached to Carrier Air Wing (CVW) 3 embarked aboard the aircraft carrier USS Dwight D. Eisenhower (CVN 69)(Ike). HSC-7, deployed as part of the Eisenhower Carrier Strike Group, is supporting maritime security operations and theater security cooperation efforts in the U.S. Fifth Fleet area of operations.
Location :

Arabian Sea


HSC-7

Helicopter Sea Combat Squadron SEVEN
US Navy

USS Dwight D. Eisenhower ( CVN-69, Nimitz class )