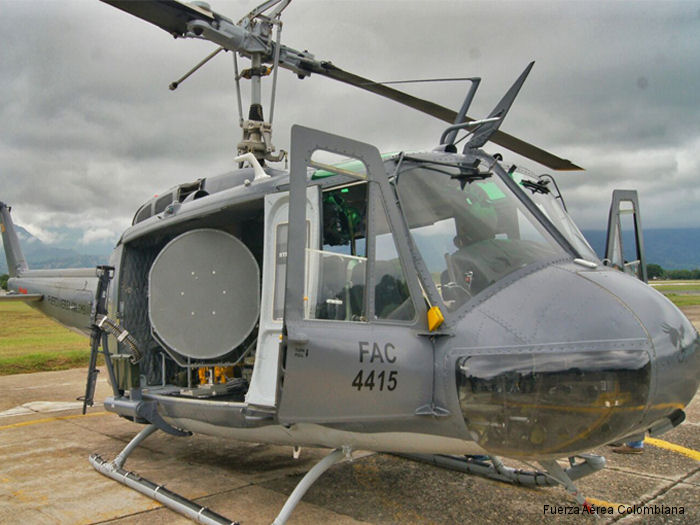 Bell Helicopter, March 30, 2016 - FIDAE – Santiago, Chile – Bell Helicopter, a Textron Inc. company, announced today that the Colombian Air Force (COLAF) had accepted their seventh Huey II Kit – continuing to improve their fleet performance and mission readiness.

The delivery of the Huey II Kit is a part of an ongoing upgrade program designed to revitalize the Colombian Air Force's UH-1H fleet. The upgrade allows for multiple configurations and increased overall mission capability.

"The Huey II upgrade reduces direct maintenance costs (DMCs), improves performance and enhances safety," said Bob Poindexter, Huey II Customer Support and Services Program Manager for Bell Helicopter. "With more than 270 aircraft built, the Huey II is the only OEM approved UH-1H upgrade currently available."

In addition to improved aircraft performance, the Huey II upgrade program has allowed for increased capabilities of COLAF maintenance personnel. COLAF's ability to work directly with Bell Helicopter's onsite support throughout the initial conversion process has allowed maintenance personnel to develop a broader understanding of the Huey II structural and maintenance differences from the UH-1H.

"The program began with an onsite full-time Bell Helicopter technical representative supporting the in-country upgrade program for the initial Huey II conversion," added Poindexter. "Following the initial upgrade, COLAF has been completing all conversions. The program overall allows for the increased fleet longevity and better cost oversight and forecasting."

Bell Helicopter provides its customers with local support in every corner of the world and has the largest support network in the industry with more than 100 Authorized Customer Service Facilities in 34 countries. Ranked number one in customer support by Professional Pilot magazine for 22 consecutive years, Bell Helicopter is committed to having resources where customers operate to speed up delivery of service and support, and give customers access to service professionals that are easy to reach, know the operating environment and understand their needs.

About Bell Helicopter: Bell Helicopter, a wholly owned subsidiary of Textron Inc. (NYSE: TXT), is an industry-leading producer of commercial and military, manned and unmanned vertical-lift aircraft and the pioneer of the revolutionary tiltrotor aircraft. Globally recognized for world-class customer service, innovation and superior quality, Bell's global workforce serves customers flying Bell aircraft in more than 120 countries.
205 in

Fuerza Aerea Colombiana