UH-60M Delivered to Indiana National Guard


Indiana Army National Guard 38th Combat Aviation Brigade based at Shelbyville transitioned to the new UH-60M Black Hawk helicopters

US Army, May 21, 2017 - INDIANAPOLIS , IN by Master Sgt Jeff Lowry - The Indiana National Guard dedicated its newest aircraft, a utility helicopter, during a ceremony outside the 38th Infantry Division armory in Indianapolis, Sunday.

It's the first time in more than a decade that Indiana's community-based, military force has received brand new, combat aircraft, the M or Mike model of a UH-60 Black Hawk.

"It's the next generation of Black Hawk and will obviously be more capable," said Maj. Gen. David C. Wood, the division's commanding general. "What's more important about today and receiving these Mike models is that it symbolizes the Army's total-force policy. We are all part of the team, whether Guard, Reserve or active."

Soldiers assigned to the division's 38th Combat Aviation Brigade, headquartered in Shelbyville, Ind., will fly and maintain the new helicopters.

To Guard leadership, the new aircraft signals a commitment by the U.S. Army and it's reliance on the National Guard as a combat-ready, operational force.

"These aircraft will have a direct impact on the readiness of the 38th Combat Aviation Brigade, and the support we provide to Hoosiers and our neighbors," said Maj. Gen. Courtney P. Carr, Indiana's adjutant general. "Additionally, these aircraft demonstrate the relevance of the Indiana National Guard, and the critical role the National Guard plays in defending the nation at home and abroad."

Indiana received four of the new M model in January and will receive six more by the end of the year.

The newest edition of the Black Hawk helicopter ditches analog gauges for multifunctional display screens that incorporate a moving map display, what pilots refer to as a digital cockpit.

Other new features include vibration control, improved infrared suppression, more efficient rotor blades, improved durability aircraft components and built-in sensors that monitor wear and tear.

"Having this aircraft in the great Hoosier state is a testament to the professionalism and the capability of the Indiana National Guard's seasoned aviators and our professional maintainers and to our consistent, sustained ability to answer our leadership's call to protect and defend our state and nation," said Col. Daniel Degelow, the combat aviation brigade's commanding officer.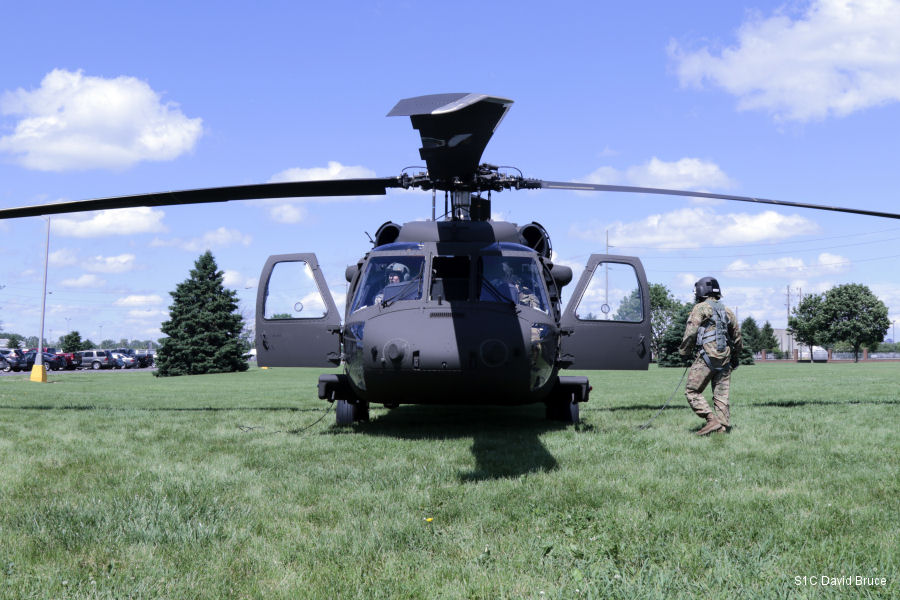 This article is listed in :


Indiana National Guard
US Army Aviation
Black Hawk in

US Army Aviation
Sikorsky UH-60M Black Hawk

Shelbyville AASF