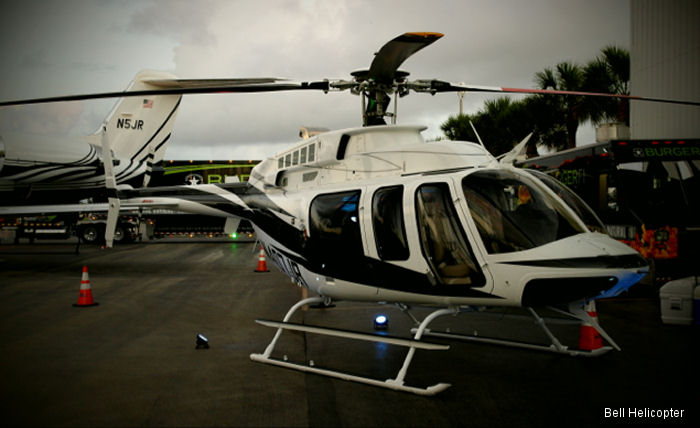 Bell Helicopter, November 17, 2015 - NBAA – Las Vegas, NV Bell Helicopter, a Textron Inc. company, announced today it secured commitments from two customers for a Bell 429 and Bell 407GX in corporate configuration while at the National Business Aviation Association (NBAA) Convention and Exhibition in Las Vegas, NV.

The Bell 429 will be operated by the Palmaz family for personal use throughout the state of California, and the Bell 407GX will be operated by Murphy Investments for corporate use.

"The Bell 429 is quickly growing in popularity worldwide among our corporate and VIP customers," said Patrick Moulay, vice president of Global Sales and Marketing. "Customers consistently comment on the aircraft performance and quiet ride, and we look forward to engaging our global corporate customers from around the world at the conference and showcasing not only the Bell 429, but our entire line of modern helicopters designed to serve this demanding market."

"The Bell 429 is unmatched in its category," said Christian Gastón Palmaz. "I was extremely pleased with the comfort and flexibility provided by the cabin. From people to cargo, the aircraft can really become what you need it to be in a matter of minutes."

There are more than 2,300 Bell aircraft in corporate configuration worldwide. The Bell 429 continues to draw attention with a number of recent successes (here and here) and the Bell 407 platform remains one of the most popular aircraft among Bell Helicopter's corporate customers worldwide.

"We are very excited for Murphy Investments to take delivery of the Bell 407GX and know the proven capabilities of this aircraft will continue to attract operators," added Moulay.

NBAA 2015 is one of the largest business aviation events of the year and the sixth largest tradeshow in the United States. More than 25,000 operators and industry leaders are expected to attend. For more information, visit https://www.nbaa.org/events/bace/2015/. Stop by the Bell Helicopter booth #N2132 for more information.

The Bell 429 is one of the most advanced light twin helicopters ever developed, offering a fully integrated glass cockpit with advanced drive system and best-in-class WAAS navigation and IFR capability. Additional safety features include a collective mounted throttle, damage tolerant hub and rotor system, and energy attenuating seats. It is the first helicopter certified through the MSG-3 process, resulting in reduced maintenance costs for operation.

The Bell 407GX delivers power and speed with a smooth, quiet ride and a spacious cabin that accommodates six passengers. The aircraft also features the fully-integrated Garmin G1000H™ flight deck, providing critical flight information at a glance for greater situational awareness and increased safety. The Bell 407GX flight deck's high resolution LCD screens host primary flight and multi-function display information, including Helicopter Terrain Awareness Warning System, Helicopter Synthetic Vision Technology™, Traffic Information Systems and more. The Bell 407GX also features a tail rotor camera, allowing the pilot a clear view of the tail during take-offs and landings.
Location :


Las Vegas Convention Center

Bell Helicopter