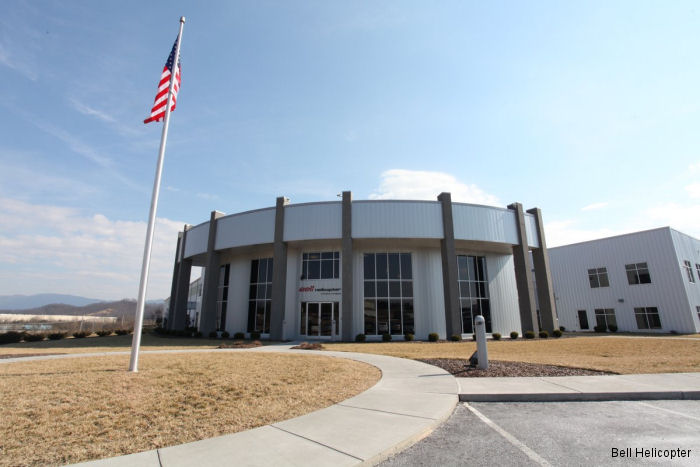 Bell Helicopter, July 21, 2016 - ALEA EXPO, Savannah, GA – Bell Helicopter, a Textron Inc. company, today announced the opening of a new customization building at its Piney Flats, Tenn. location – expanding its capabilities and increasing efficiencies to better service global customers.

"Expanding our facilities allows us to implement new technologies and processes to ensure a high quality customization and delivery process for our customers," said Glenn Isbell, executive vice president, Customer Support and Services for Bell Helicopter.

Converted from an existing 150,000 square-foot warehouse, the new facility co-locates all of Bell Helicopter's current Piney Flats customizing operations under one roof – increasing capacity, improving efficiencies and the overall training experience of the workforce. The new facility gives the capacity for the Piney Flats location to customize more than 200 aircraft per year. It additionally allows for an increased employee workspace, improving support and the overall safety of the program.

"We continue to invest to bring enhanced capabilities to meet the evolving needs of our customers," said Chad Nimrick, general manager for Bell Helicopter's U.S. sites. "The new facility allows talent and resources to be more easily shared and further streamlines our operations."

A new flight line has also been added to accommodate all Bell Helicopter aircraft in both day and night operations. Bell Helicopter has additionally acquired approximately 41 acres of land adjacent to the new building, securing Bell Helicopter's flight path in order to allow the company to continue uninterrupted flight operations.

In addition to customization, Bell Helicopter's facility in Tennessee provides maintenance, repair and overhaul capabilities including structural repairs, engine maintenance, window replacement, custom interiors and upgrades, avionics upgrades, customizing and refurbishment. With comprehensive services, ranging from basic hourly inspections to major aircraft rebuilds, the Bell Helicopter facility in Piney Flats leverages OEM data and engineering to ensure consistent, top quality results. Bell Helicopter parts are installed by certified, OEM trained professionals and the location is further part of the Bell Helicopter Customer Advantage Plan global network.

Bell Helicopter provides its customers with local support in every corner of the world and has the largest support network in the industry with more than 100 Authorized Customer Service Facilities in 34 countries. Ranked number one in customer support for 22 consecutive years by Professional Pilot magazine, Bell Helicopter is committed to having resources where customers operate to speed up delivery of service and support, and gives customers access to service professionals that are easy to reach, know the operating environment and understand their needs.

Bell Helicopter