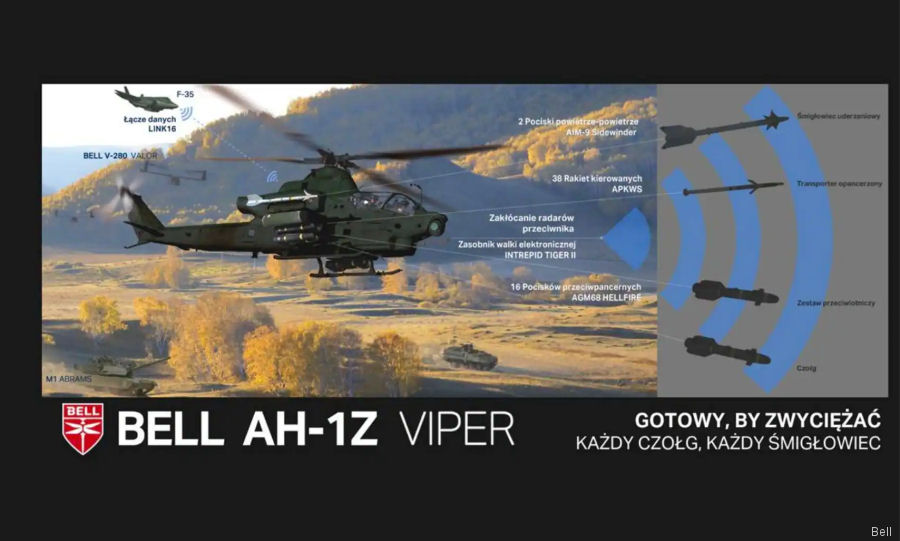 Bell, May 03, 2022 - The AH-1Z gives air superiority like no other helicopter in the world, and will defeat enemy tanks on the battlefield. Combat capabilities, as well as excellent interoperability and situational awareness are tailored to the needs of the Polish Army.

Bell can provide Poland with the most advanced, cost effective and mission capable aircraft for its national security requirements and broader NATO responsibilities. Bell's advanced fleet of purpose-built military, para-public and civil certified aircraft afford the best mix of capability, affordability and sustainability for all Polish helicopter modernization programs: Kruk, Perkoz, and Kondor.

Bell's AH-1Z Viper is the newest, most advanced attack helicopter in production. Viper will provide Poland with critical combat capability to defeat hostile armored formations and air to air superiority to engage offensive helicopter formations.

The Viper is the only Attack Helicopter which teams with the F-35 under the US Marine Corps to operate seamlessly together to defeat air and ground threats. This already proven integration provides an operational concept for Poland to employ the F-35 with the AH-1Z Viper

Poland's employment of Bell's AH-1Z Viper sets the conditions for successful combat conditions today and grows familiarity to position Poland and Polish industry for the future vertical lift requirements of tomorrow.

Bell envisions robust future industrial potential and welcomes the proven competence present in today's Polish aviation industry, workforce and university system, starting with a relationship with the AH-1Z Viper. Bell believes Polish industry is highly capable and able to build, maintain and modernize new aircraft for both Kruk and Perkoz programs. We are ready for collective efforts that encompass military capability today while building industrial relationships for the future in the vertical lift community.

Bell and Polish industry have initiated the march toward technology. Bell works closely with Seco Warwick and others in the Polish manufacturing industry to develop cutting edge metallic manufacturing technologies. This relationship will continue as Bell integrates this equipment and technology into the newly established Manufacturing Technologies Center (MTC).

The MTC is an innovation center that will validate technology and manufacturing methodologies for Bell's production of the next generation aircraft both in the civilian market and future vertical lift programs such as the V-280 Valor and 360 Invictus.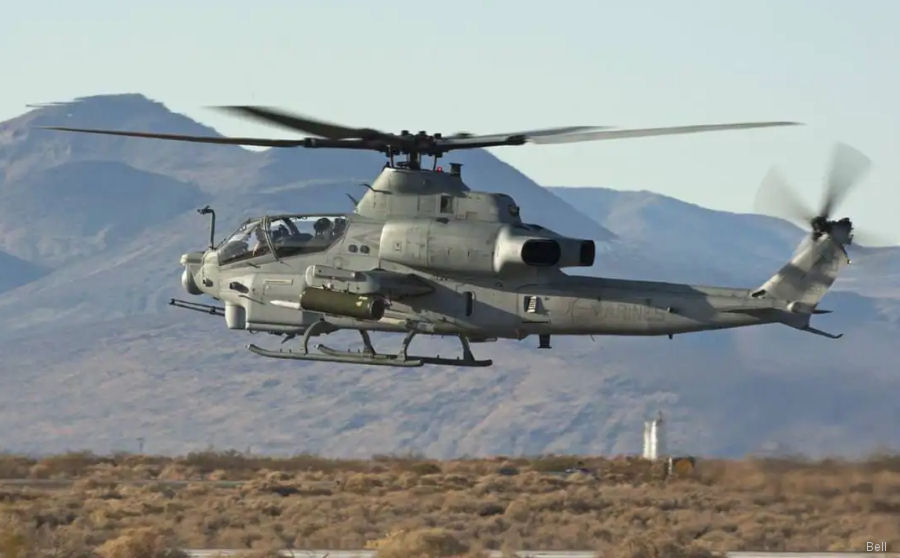 Wojska Lądowe
Polish Army
Polish PGZ Sign LOI on AH-1Z Viper
Boeing Offering AH-64E Apache to Poland
TAI Offering T129 for Polish KRUK Program
Leonardo and PGZ Sign LoI for AW249
Bell AH-1Z Viper
AH-64E Apache Helicopters for Poland