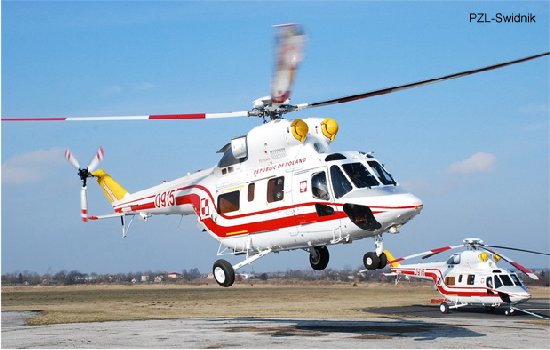 PZL-Swidnik, January 11, 2012 - PZL-Świdnik, an AgustaWestland company, is pleased to announce it has signed contracts with the Polish Ministry of National Defence valued at approximately PLN380 million net (€90 million) for the supply of five W-3WA Sokół helicopters and the upgrade of 14 helicopters. The manufacture and upgrading activities will be undertaken at the PZL-Świdnik factory in Poland.

The five new W-3WA Sokół helicopters will be configured for VIP transport and used by the Polish Air Force to provide transport services for senior military and government personnel. Featuring outstanding operational capability, the W-3A has proven to be a very effective, rugged and reliable helicopter in all conditions. Deliveries of the five aircraft will be completed by the end of 2013.

Separate contracts for the upgrading of 14 helicopters have also been signed comprising the upgrade of four W-3 Sokół helicopters to W-3PL Głuszec armed configuration, the overhaul and upgrade of eight Mi-2 helicopters and the upgrade of two W-3VIP helicopters with a FADEC (Full Authority Digital Engine Control) system.

Deliveries of the upgraded W-3PL Głuszec helicopters will be completed in the second half of 2014 and represents the second batch in a plan to upgrade a total of 32 helicopters in the next five to six years, forming the back bone of Poland's combat support capability.

Mieczysław Majewski, President of the Management Board, PZL-Świdnik said "We are delighted to have secured these contracts with the Ministry of National Defence for the production of new helicopters and the cost effective upgrade of existing helicopters in the Polish MoD's inventory. These contracts recognise that in Świdnik we have the capability to develop, manufacture and upgrade helicopters, providing outstanding support to our customers."

Nicola Bianco, Managing Director, PZL-Świdnik said "We are proud that the W-3WA Sokół has been selected for the important and high profile VIP transport requirement. This selection and recent export successes confirms the W-3 Sokół as a highly attractive product in the market. The W-3PL Głuszec programme also highlights PZL-Świdnik's ability to undertake complex major upgrade programmes. The next challenge for PZL- Świdnik is to provide the most attractive solution for the Polish Ministry of Defence's tender for 26 helicopters: we have the product, the overall capability, experience and the organization to properly serve the Armed Forces."

PZL-Świdnik is Poland's only helicopter manufacturer with the full capability to design, develop, manufacture and support its products in country. PZL-Świdnik with 3,500 employees is also the biggest aerospace manufacturer in Poland and one of the biggest employers in South East Poland. As well as producing helicopters, PZL-Świdnik is also a leading manufacturer of aircraft structures for many aerospace companies around the world.

PZL Swidnik