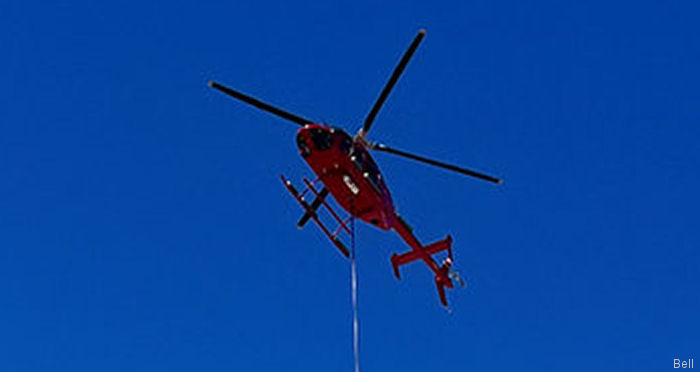 Bell, July 01, 2023 - In March 2023, north-west Queensland, Australia, experienced record-breaking flooding caused by heavy rain, resulting in an urgent need for helicopters to support state emergency services.

Nautilus Aviation, with its long and proud history of providing helicopter emergency services in North Queensland and the Northern Territory, was well positioned to play a crucial role in supporting Queensland government agencies in disaster relief efforts.

As the floodwaters began to rise, Nautilus Aviation was completing acceptance of its fifth Bell 407GXi helicopter that it ordered the year before. These five Bell 407GXis would be the backbone of Nautilus Aviation's helicopter emergency relief efforts over the next few weeks.

With any natural disaster, time is of the essence. Therefore, it was crucial for the Bell and Nautilus teams to seamlessly integrate the new Bell 407GXi helicopters into Nautilus' fleet to quickly answer the Queensland government's call for support. The helicopters were put to work by the experienced team at Nautilus immediately after delivery.

The Nautilus team operated their Bell 407GXi helicopters tirelessly for over three weeks, seamlessly executing relief and evacuation operations, resupply missions, and a range of other vital tasks.

In the initial few days of resupply operations alone, a remarkable 5 tonnes of crucial provisions were transported to the affected areas, the helicopters successfully conducting long-line and internal cargo operations over long distances of flooded terrain. In the weeks that followed, the effort increased to 12-13 tonnes, comprising food, medicines, key infrastructure components, and parts. The versatility of the aircraft fitted with cargo hook and floats facilitated the transportation of dry and frozen foods, livestock, fuel, and even cattle feed.

In addition to moving supplies, the nautilus team facilitated the transport of key stakeholders such as politicians, emergency workers, and infrastructure assessment teams.

Operating in challenging environments, such as flooded regions, posed unique challenges for any helicopter operator. However, the Bell407GXi's advanced features and kits proved invaluable in overcoming these challenges.

The Emergency Flotation Systems fitted to the landing skids of the helicopter, which were specifically designed for working in flooded locations, provided a significant advantage. This feature allowed the aircraft to navigate over flooded areas and provided crucial aid to communities cut off from traditional transportation networks.

The presence of a tail camera proved to be highly effective during the execution of confined landings and intricate long-line operations, ensuring enhanced safety and situational awareness. The camera provided real-time visibility, ensuring that the long line remained properly positioned and reducing the risk of accidents.

The integration of Garmin avionics, featuring comprehensive mapping capabilities, further complimented the Nautilus team's expertise. The avionics accurately identified cattle stations and other significant landmarks, even in areas where traditional landmarks were obscured by floodwaters. This eliminated the need for time-consuming searches, enabled the teams to navigate with ease, expediting relief operations and ensuring a swift response to critical situations. In the Bell 407GXi, the increased cabin volume, facilitated by innovative window design, allowed for efficient utilization of space and capacity.

As Northern Australia's largest helicopter operator, Nautilus Aviation will continue to play a crucial role in providing vital community assistance during natural disasters. Their recent stellar track record with the Bell 407GXi in flood relief is a good foundation for the Nautilus team to build on when the need arises again.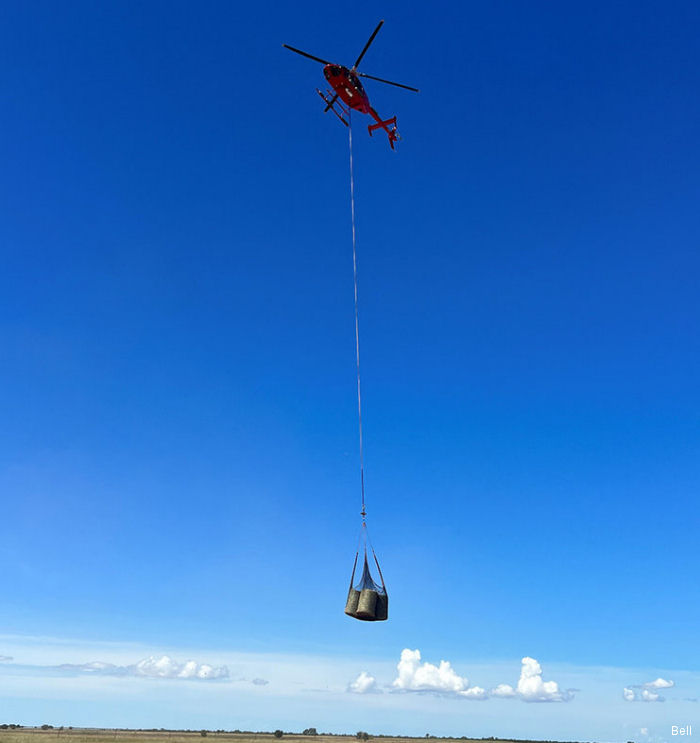 407GXi in

Nautilus Aviation